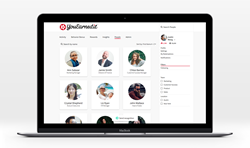 Austin, TX (PRWEB) June 20, 2017
YouEarnedIt, a leading HR SaaS company that improves bottom-line performance metrics by enhancing the employee experience, today announced the launch of People - a feature suite to improve real-time connections between colleagues. YouEarnedIt will debut its People feature to more than 14,000 HR professionals from across the globe at the SHRM 2017 Annual Conference & Exposition in New Orleans, Louisiana.
YouEarnedIt's People suite was built for new employees, remotes, dispersed, and large organizations to allow users to search for, learn about and connect with colleagues throughout their company. The People suite features a new platform functionality called People Directory - a modernized staff directory that links dispersed teams and allows them to learn more about each other by putting a face, a name, and a story all on one page. With the changing structure of today's workforce, People Directory was created to help onboard new hires, connect remote employees, and keep current team members engaged during times of growth so every employee, no matter their tenure, can get to know the people they work with, build their networks, and navigate their company.
With People Directory, organizations and HR departments can save time and money by bypassing spreadsheets, HRIS, or other standalone products and instead use one streamlined platform to connect their team. The user-friendly feature not only eliminates the need for extra systems, but it also increases employee engagement on the platform and improves real-time connections across the organization. People Directory can also be used to help onboard new hires and connect remote employees so they get to know the people they work with, build their network organically, and navigate their new company.
"While new hires struggle to get to know coworkers and learn about company culture, tenured employees can also struggle to stay engaged as companies grow and the business landscape changes. At YouEarnedIt, we want our platform to create a better employee experience and help people quickly connect with one another," said Autumn Manning, co-founder and CEO of YouEarnedIt. "The launch of our People suite not only helps admins streamline their internal processes when welcoming new employees, but it also shapes a culture of openness and improves collaboration across teams and departments. Collectively, this achieves results leadership teams are after with performance management, and allows them to identify problems and have a high level of transparency."
The People suite is equipped with a powerful search tool to support better filtering, sorting and search functionalities. YouEarnedIt's global search functionality now allows users to search, sort and filter on desktop by name, business unit, department, location, managers, team, country, worker type and tenure compared to the standard search function which limits to name only.
"With any size organization, it's vital for employees to be able to quickly interact with each other – not only to increase productivity, but also to build valuable internal connections," said C.K. Sample III, Chief Product Officer at YouEarnedIt. "People is a step forward in our goal to provide HR teams with the ability to own the employee lifecycle all in one platform – from onboarding and health and wellness, to providing employees ownership in how they actually want to work and enabling greater collaboration and growth."
In addition to People Directory, the People suite also launched the Group Recognition function. Group Recognition gives users the ability to recognize up to 50 coworkers in one post, empowering employees to recognize teams and departments at once, without accidentally excluding anyone. As components of the new People suite, People Directory and Group Recognition make it easier to connect with coworkers within the YouEarnedIt platform.
The People suite is available through YouEarnedIt's desktop application immediately and will be available through the company's mobile application later this Summer. YouEarnedIt is actively working to expand its platform functionalities to create the industry's most innovative technology for businesses to make a lasting impact on culture and employee engagement. To learn more about YouEarnedIt, visit http://www.youearnedit.com.
About YouEarnedIt
YouEarnedIt is the employee experience platform powered by the science of motivation and the mission of improving the lives of employees everywhere, one company at a time. Founded in 2013, YouEarnedIt grows company culture and improves bottom-line performance metrics through its robust engagement platform that delivers recognition, rewards, incentives, and team insights. Named to Entrepreneur Magazine's list of Best Company Cultures in 2017, the Austin-based SaaS company and its technology platform are built on the four pillars of employee experience: connection, meaning, impact and appreciation. To request a demo, visit http://www.youearnedit.com/demo.