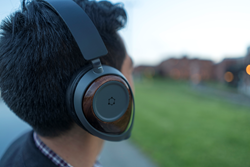 Montreal (PRWEB) June 20, 2017
Today, ORA Sound, launched a Kickstarter campaign for ORA GrapheneQ Headphones, featuring proprietary graphene membranes that enable new levels of fidelity. They are the first commercial audio product to leverage the "wonder material" that was discovered in 2004. The headphones are now available for the early bird price of $199 (retail price $499).
ORA GrapheneQ Headphones have been designed with comfort and sound isolation in mind. Thanks to its graphene membranes, listeners will enjoy one of the smoothest frequency responses recorded, zero distortion, and crystal clear resolution at low, mid and high frequencies.
"As a trained audio engineer I have dedicated my life to the study and practice of accuracy in sound reproduction," said Co-Founder Robert-Eric Gaskell. "After my brother and I completed our PhDs, we worked together designing and building audio equipment for professional recording studios. It became clear to us that graphene had the ideal mechanical characteristics for loudspeakers and microphones. We patented the idea and wrote a paper for the Audio Engineering Society on the use of graphene in ribbon microphones. Shortly thereafter we were approached by a technology incubator and assembled a team to explore its potential."
The result was the development of GrapheneQ, a proprietary nanocomposite formulation consisting of 95%+ graphene. Speaker membranes made with this material display a rare combination of high stiffness and low density which translates to acoustic qualities on par with the highest performing materials on the market at a significantly reduced cost.
"Digital processes (DSP) have become a band-aid for masking the limitations of audio technology," said Co-Founder Ari Pinkas. "While DSP is a powerful tool, improving the fundamental technology is a far superior approach."
ORA GrapheneQ Headphones feature GrapheneQ membranes for excellent tonality and superior dampening, high efficiency drivers for extended battery life, touchpad controls to skip songs, control volume and answer calls, high quality electret built-in microphone for hands-free calling, and ear-shaped design optimized for fit and ergonomics.
The headphones have an adjustable, padded headband for ultimate comfort, a frame composed of anodized aluminium and steel for robustness with wooden earcups for optimized acoustics.
ORA's campaign runs from June 20 to July 20, 2017. For a full rundown of the pledge levels visit the Kickstarter page. Media wishing to interview their personnel should contact PR agent, Allison Aitken at +1 (514) 703-4989.
About ORA Sound
ORA's team consists of chemists, material scientists and audio engineers who have come together to bring better listening experiences en masse. The company is currently working with major OEMs that are seeking to include GrapheneQ technology inside the next generation of: TVs, home audio, hearing aids, cellphones, laptops, tablets, automobiles and other consumer electronics.
Media contact
Allison Aitken
Proper Propaganda
+1 (514) 703-4989
allison(at)properpropaganda(dot)net