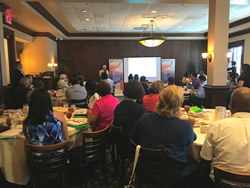 It's best to get in front of the agents and really get to know them. Only then can we truly help them become successful.
Southlake, TX (PRWEB) June 21, 2017
This year, Empower Brokerage, located in Southlake, Texas, has organized 23 live seminars – all well-attended – across the state of Texas with many more scheduled through summer. Each seminar expounds on industry news and explores upcoming opportunities. Equipped with the latest tools and products on the market, Empower Brokerage teaches insurance agents how to navigate the ever-changing health insurance industry.
Live seminars are nothing new to Empower Brokerage. In fact, they have hosted thousands of educational lunch seminars over the past twenty years. DeWayne Long, National Sales Director, says, "It's best to get in front of the agents and really get to know them. Only then can we truly help them become successful."
To illustrate how popular these educational seminars truly are, close to 150 independent insurance agents attended the Houston gathering last week. Agents are hungry for the kind of thoughtful guidance Empower seems to offer. Anyone, looking to better their career, seeks useful knowledge from other experienced professionals. It seems refreshing to hear of a company willing to spend the time and money to bring that experience, in person, to the masses in this way.
Empower Brokerage believes in finding out what really matters to insurance agents, researching the best solution, and then teaching that solution. "It's a win / win situation," says William Bronson, Marketing Director. "We want agents to work with us because we're good to them and give them good advice. Not because we have the best sales pitch. So, we try to be the best partner we can be. We give agents tons of tools, resources, training, and access to any carrier they need, without any commission splits. In return, our national contract levels give us our profit. That's it. It's simple and everyone wins. In the end, the consumer benefits because they get a knowledgeable, confident, and well-equipped agent. An agent like this can provide better answers, better service, and be in the business longer than any other."
Andrea Hektner, New Business Development Manager, adds, "There's something for everyone at our seminars. Our speakers cover the latest industry news and the best sales tactics and resources to grow one's business. And if that's not enough, we make sure everyone is well-fed."
The Texas live seminars are slated to be held in: Amarillo, Austin, El Paso, Harlingen, Houston, Laredo, Lubbock, McAllen, San Antonio, Southlake, Texarkana, and Tyler.
As rates continue to soar and insurance companies continue to exit the marketplace, the Affordable Care Act grows increasingly unstable. It's future is further marred by the new CMS ruling, as well as the American Health Care Act, currently under review by the Senate. With the coming changes new opportunities arise. Families, who want more choice, should have it. Families, who were financially struggling with the skyrocketing Obamacare premiums and deductibles, should have options to overcome that situation. People, who liked Obamacare, should still have similar choices. It's really more what you think of when you hear the word, "marketplace."
"Every time we have change, opportunity is not far behind that change. We will be successful and we will teach agents to do the same," says Rodney Culp, CEO.
With so much uncertainty, in the area of health insurance, Americans will certainly benefit from the resources Empower Brokerage is investing. Whether you are a consumer or an insurance professional, knowledge is a powerful thing.
For more agent information, visit https://www.empowerbrokerage.com
For consumer Health Insurance information, visit https://empowerhealthinsuranceusa.com