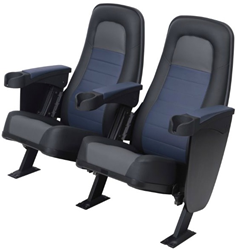 (PRWEB) June 20, 2017
Seating Concepts has launched a brand new seat option to add to their line, the Contempo seat. The Contempo is compatible with a wide variety of chair models, allowing theater owners, school operators, arena managers, and others to upgrade to a higher quality and more comfortable seat option for patrons without having to increase the budget to include luxury chairs.
Seating Concepts chair options now come with three seat options: the Standard, the Waterfall, and the brand new Contempo. The Contempo seat is created with an injection mold base, and this alleviates the need for the chair to have springs. Thanks to this feature, the Contempo seat is easier to maintain and provides a longer product life.
Other great features about the Contempo are the integrated ergonomic contoured support, and the contoured cold molded foam used to produce the seat itself. The contoured support makes long-term sitting comfortable and easy because the seat naturally supports a proper posture. On top of allowing patrons to sit comfortably for long periods, the seat design also reduces back pain and discomfort. Moreover, the cold molded foam seats are molded individually using a high-density and high-quality polyurethane foam, and because the foam isn't prone to shifting, the shape of the seats will hold up to years of use.
Another concern that Seating Concepts addressed with the Contempo seat is the difficulty some patrons have reclining and returning their seats to an upright position. The Contempo is outfitted with a counterbalance gravity seat return, making the transition to a reclined or upright position smooth and easy. Furthermore, the metal seat mechanism is far more durable than plastic, meaning the Contempo is both easier to maintain and longer lasting than other seat options on the market.
Seating Concepts is a leader in the large-scale seating industry, and the family-owned company has been treating clients like extended family for 90 years. Seating Concepts is a pioneer in the design and manufacture of seating options for theaters, churches, stadiums, schools, arenas, and other public venues. They always strive to design and create the most comfortable, lasting, and advanced chairs and parts on the market, and will work with you every step of the way from project inception to completion. For more information, contact Seating Concepts at 619-491-3159, or visit their website, http://www.seatingconcepts.com, to see their full range of chairs and accessories.