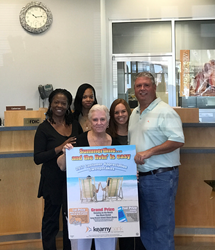 Fairfield, NJ (PRWEB) June 20, 2017
Oceanport resident Guy P. Evans was recently selected as the grand prize winner of Kearny Bank's "Customer Appreciation Sweepstakes" contest, and will enjoy a week-long, expenses-paid beach house rental at Long Beach Island on the Jersey Shore. Evans is a customer of Kearny Bank's Ursula Plaza/Long Branch location.
Kearny Bank's 2017 "Customer Appreciation Week" ran from April 17 to April 22 and included branded giveaways to customers. In addition to the sweepstakes grand prize, first prize was a personal chef, to prepare a home-cooked meal for one winning customer and 7 guests, and second prize was a beach kit containing beach-themed items.
"It's important that we demonstrate to our customers how much we appreciate their loyalty to us," said Eric Kesselman, First Vice President and Director of Marketing for Kearny Bank. "Kearny Bank has deep roots throughout New Jersey, and always strives to maintain a sense of community at all our branch locations."
About Kearny Bank
Kearny Financial Corp. is the parent company of Kearny Bank, which operates from its administrative headquarters building in Fairfield, NJ. Kearny Bank has supported the communities it serves since 1884. The bank has assets of $4.8 billion and operates 42 full-service banking offices in northern and central New Jersey, and in Brooklyn and Staten Island, New York.