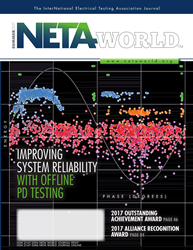 Portage, Michigan (PRWEB) June 20, 2017
"NETA World Journal" Summer 2017 issue offers an in-depth look at partial discharge testing, a new powerful diagnostic technique capable of identifying problem spots in cables long before they cause an in-service outage.
NETA — the InterNational Electrical Testing Association released the summer 2017 edition of its flagship publication, featuring articles on requirements for testing switchgear quickly, load tap changer testing, and the latest news from NETA as well as standards and specifications.
The summer 2017 issue of "NETA World Journal" was released May 15, 2017, exclusively to NETA members, Alliance Partners, and current subscribers. A few featured articles from the summer 2017 issue are available here:

"NETA World Journal" publishes four times a year, delivering the most relevant information created specifically for electrical power systems industry professionals. To subscribe to the Journal, visit http://www.netaworld.org or call 269-488-6382 (NETA).
ABOUT NETA
NETA is an ANSI Accredited Standards Developing Organization that creates and maintains standards for electrical maintenance and acceptance testing for electrical power equipment and systems, as well as a standard that addresses the certification of electrical testing technicians. NETA is an association of leading electrical testing companies comprised of visionaries committed to advancing the industry standards for power system installation and maintenance to ensure the highest level of reliability and safety.