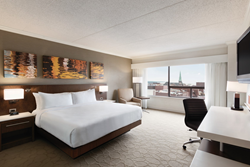 The $10 million hotel renovation began in June 2016 and will transform the 254-room hotel
Saint John, NB (PRWEB) July 14, 2017
Crescent Hotels & Resorts announces the continued commitment of Slate Office REIT to Saint John, New Brunswick with the ongoing investment in the uptown area with a $20 million renovation investment in the Delta Hotels by Marriott Saint John and Brunswick Square Complex.
The Delta Saint John and Brunswick Square Complex have long been synonymous with uptown Saint John. "Slate is excited about the company's initial investment into this landmark building and the prospects it will bring to Saint John," said Slate Office REIT, CEO, Scott Antoniak.
The investment planning commenced after Slate Office REIT's 2015 purchase of the complex and Marriott International's 2015 announcement that it had acquired the Delta Hotels and Resorts brand. "The Delta Saint John is now fully integrated into the Marriott International family," said Paulette Hicks, General Manager of Hotel and President of the Saint John Hotel Association.
The $10 million hotel renovation began in June 2016 and will transform the 254-room hotel, bringing a renewed look to the entire property. The scope includes the hotel lobby, 18,000 sf conference floor, guest rooms, suites, public spaces, pool and fitness centre. The renovation is set to be complete by end of 2017. Focusing on truly meaningful elements that provide its guests with a memorable and frictionless journey, Delta Hotels by Marriott delivers a fresh new lodging alternative, with a clean aesthetic and modern take on comfort. The model is simple: intuitive design and service enabling guests to focus on what is important. It's simple made perfect.
A 730-stall Brunswick Square parking garage is also undergoing a $ 10 million upgrade that started early June 2017. "Taking a phased approach to construction will ensure the parking garage and the hotel continue to be accessible and open for business throughout the renovation," Hicks said. "We're aiming to provide our clients with all the benefits of a remodelled facility, while minimizing the disruption of construction. This major investment will not only ensure our guests continue to have a high-quality visitor experience, it also is a solid testament to the Saint John community that our new owners have confidence in this landmark building."
Acquired by Slate Office REIT in 2015, this multi-use complex is centrally located in Saint John, New Brunswick and is made up of four entities: Brunswick Square Office Tower, Brunswick Square Shopping Centre, Brunswick Square Parking Garage and the Delta Hotels by Marriott Saint John. It encompasses a full city block.
For more information, contact:
Paulette Hicks
506.648.9670
Paulette.hicks(at)deltasaintjohn.com
_
About Crescent Hotels & Resorts:
Crescent Hotels & Resorts is an award winning, nationally recognized, top-3 operator of hotels and resorts. Crescent currently operates over 90 hotels, resorts & conference centers in the US and Canada. Crescent is one of the few elite management companies approved to operate upper-upscale and luxury hotels under the brand families of Marriott, Hilton, Hyatt and IHG. Crescent also operates a collection of legendary independent lifestyle hotels and resorts. Crescent's clients are made up of hotel REITs, private equity firms and major developers. For more information, please visit http://www.chrco.com or connect with Crescent on LinkedIn.
About Delta Hotels and Resorts:
One of North America's leading four-star brands, Delta Hotels, with more than 40 locations in gateway cities across the US and Canada, was acquired by Marriott International in 2015. Delta's distinct style of simple made perfect provides guests with exactly what they need for a seamless travel experience. The brand's invitingly familiar rooms, free Wi-Fi and convenient dining options, offer travelers a comfortable and stylish place to stay. Delta Hotels and Resorts is proud to participate in the industry's award-winning loyalty program, Marriott Rewards® which includes The Ritz-Carlton Rewards®. Members can now link accounts with Starwood Preferred Guest® at members.marriott.com for instant elite status matching and unlimited points transfer. For more information or reservations visit http://www.marriott.com. Stay connected to Delta Hotels on Facebook, @DeltaHotelsLtd on Twitter and @deltahotels on Instagram.
About Slate Office REIT:
Slate Office REIT is an open-ended real estate investment trust. The REIT's portfolio currently comprises 38 strategic and well-located real estate assets located primarily across Canada's major population centres. The REIT is focused on maximizing value through internal organic rental and occupancy growth and strategic acquisitions. Visit slateofficereit.com to learn more.