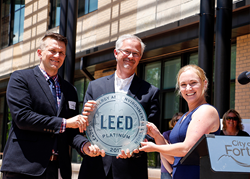 What a privilege it is to be part of a community that imagines and builds projects like this
Fort Collins, Colo. (PRWEB) June 20, 2017
Adolfson & Peterson Construction (AP) joined together with City of Fort Collins officials, members of the community and members of the U.S. Green Building Council to celebrate achieving LEEDv4 Platinum for the Block 32 Utilities Administration Building in Old Town Fort Collins. The building is the first in the state of Colorado, the third in the US, and the fourth in the world to be certified as LEED Platinum for new construction under the new USGBC LEED v4 standards.
"What a privilege it is to be part of a community that imagines and builds projects like this," City Manager Darin Atteberry told those gathered at the ceremony.
"Congratulations to our entire team. Thanks to our great City for demonstrating to our citizens and to the world how great buildings can help our health and our climate." said Brian Dunbar, Executive Director of the Institute for the Built Environment. "The way these great buildings happen is through a great team effort. Not just a team effort but a great team effort," he said.
Designed by RNL Design and built by AP, the Block 32 project in Old Town Fort Collins is designed to house the administrative functions of Fort Collins Utilities. It is the first phase of the City of Fort Collins' plan to redevelop their municipal services complex and create a more welcoming civic center. This new 3‐story, 37,500‐sf municipal office building was designed to be one of the most energy efficient buildings in the state and incorporates sustainable features, such as photovoltaic panels, an insulated enclosure and windows, the state's first perennial outdoor living wall and a rain garden.
Patti Mason, Director for the USGBC Colorado Chapter said, "When we were rolling out this new version of the rating system, there was a lot of push back from the industry that we had perhaps gone too far. That we had pushed the envelope too far and had gone a little bit too deep into sustainability. And what I'm really inspired about today is that I haven't heard a single person or speaker before me today say that this has been too much for them to handle. In fact, in Fort Collins, you are constantly pushing the USGBC and all the other stakeholders involved in advancing sustainability, you are pushing us farther. You are pushing the entire state of Colorado. You are pushing the entire region."
To meet the goals of setting the standard for high efficiency buildings, several innovative materials and methods were used, including:

Lightlouver Daylighting System
Aquatherm fused piping
High‐Efficiency wall panel system
High‐performance fiberglass windows
30,000 repurposed bricks
97% of project waste diversion from the landfill
Xeriscaping
Advanced insulation
Energy efficient LED lighting
Water‐efficient fixtures
27 monitors providing real‐time information on water and energy consumption
An outdoor living wall
The project was officially completed in September of 2016.
About AP
Adolfson & Peterson Construction (AP) is a U.S.‐based, privately held builder that is consistently ranked among the top 50 construction managers and general contractors in the nation. Headquartered in Minneapolis, Minnesota, the company delivers innovative and collaborative building solutions for clients across the country from its regional offices in Charlotte, Dallas, Denver, Minneapolis and Phoenix. Founded in 1946, AP serves clients in the education, healthcare, commercial, municipal, multifamily, hospitality and senior living market sectors. For more information, visit http://www.a‐p.com or follow us on Facebook, LinkedIn and Twitter.