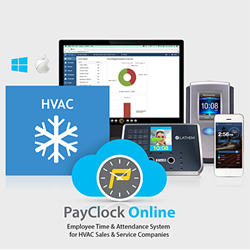 Now we can access reports online in real time and employees can access their own time records, which frees me up to do other business tasks. - Christopher Edwards, Mid-FL Heating & Air
Atlanta, GA (PRWEB) June 20, 2017
Businesses in the HVAC industry have switched to Lathem's cloud-based employee time and attendance system, PayClock Online, to manage workforce time and attendance, saving time and money.
Oak Grove Heating & Air of Hattiesburg, Miss., AAA-1 Heating & Cooling of Kingsport, Tenn., and Mid-FLA Heating & Air of Gainesville, Fla., and many other HVAC companies have implemented Lathem's cloud-based employee time and attendance system, eliminating paper time cards and cutting employee time and attendance processing for payroll in half.
The cloud-based technology allows managers to access and administer employee time & attendance at any time, from anywhere, and enables employees to view their time records on the web including hours worked, overtime and benefit time.
Christopher Edwards of Mid-FL Heating & Air, said, "Before PayClock Online, someone would need to physically bring timesheets to our office once a week. Now we can access reports online in real time and employees can access their own time records, which frees me up to do other business tasks."
PayClock Online includes a free mobile app for Apple and Android smart phones with complete functionality for employees and supervisors, allowing for more efficient and accurate time entries. The PayClock Online app with the GPS tracking feature allows employees to clock in and out on their mobile devices so they can go straight to the job site, further saving time.
Lisa Peery, office manager for AAA-1 Heating & Cooling, said, "Before using Lathem's mobile app, we didn't have an efficient way to manage time entries for our field-based service technicians. They would fill out a paper time sheet and I'd verify each entry to see if they were working those times. With the PayClock app, all our service techs can clock in and out on their phones, and with the GPS tracking, I know it's all correct."
Oak Grove Heating & Air uses Lathem's newest time clock, CloudTouch with fingerprint reader scanning, which integrates with PayClock Online, combining a physical time clock with online software. Employees simply clock in and out with the touch of a finger. Managers can add employees and edit time punches directly from the clock and quickly see who is clocked-in and clocked-out.
"We also like the cloud-based feature of reviewing time entries anytime and from any location, as some employees use the CloudTouch fingerprint reader time clock in the office, while others clock in on their phones from job sites," said Amanda Clontz, Oak Grove Heating & Air administrator.
With PayClock Online, companies can capture, manage and securely integrate their workforce time and attendance data into payroll software systems such as ADP, QuickBooks, Paychex, and other payroll systems, when it is convenient and from anywhere via the web.
About PayClock Online
PayClock Online is a cloud-based solution that enables businesses to manage employee time and attendance anytime, anywhere with an Internet connection, saving time and money. This web-based employee timekeeping system allows managers to quickly process payroll on their own time, when it is most convenient for them. Mobile functionality through the PayClock app lets managers track employees' hours or administer payroll from their own mobile devices. Employees record time from their computers, smartphones, and even Lathem time clocks, enabling them to view their own time records and even review and request paid time off. PayClock Online easily integrates with popular payroll software systems like QuickBooks, Paychex, ADP and more.
About Lathem
Headquartered in Atlanta, Georgia, Lathem is the leading provider of durable and affordable timekeeping products for business. Since 1919, Lathem remains a family-owned and operated US manufacturer. Organizations worldwide use a Lathem solution every day to help manage their business, including the cloud-based PayClock Online time and attendance system and the PayClock mobile app.