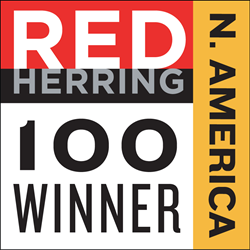 Los Angeles, California (PRWEB) June 21, 2017
Red Herring announced the winners of its 2017 Top 100 North America event, recognizing the continent's most exciting and innovative private technology companies.
Insticator Inc. has been selected as a winner of Red Herring's Top 100 North America award, with its founder and CEO, Zack Dugow, becoming the youngest CEO to be awarded the Red Herring accolade this year.
The honor came during an exceptional week for Insticator. Prior to being named a Red Herring Top 100 Winner, the ad tech company was also featured as a top publisher tool in Luma Partners' 2017 Display LUMAscape, an infographic which recognizes leading digital media and tech companies.
The winners, celebrated at a special awards ceremony at the Marina Del Rey Marriott Hotel, have been chosen from thousands of entrants, which were then whittled down to hundreds making the trip to California. The ceremony, led by Red Herring chairman Alex Vieux, was preceded by two days of keynote speeches, discussions and finalist presentations.
Companies were judged by industry experts, insiders and journalists on a wide variety of criteria including financial performance, innovation, business strategy and market penetration. Winners ran the gamut of verticals, from fintech and marketing to security, IoT and many more.
Red Herring's editors have been evaluating the world's startups and tech companies for over two decades. It gives them the ability to see through the industry's hype to pick firms that will continue on a trajectory to success. Brands such as Alibaba, Google, Kakao, Skype, Spotify, Twitter and YouTube have all been singled out in Red Herring's storied history.
"2017's crop of Top 100 winners has been among our most intriguing yet," said Vieux. "North America has led the way in tech for so many years, and to see such unique, pioneering entrepreneurs and companies here in California, which is in many ways the heartland of the industry, has been a thrilling experience.
Dugow shared, "Being acknowledged as one of the Top 100 tech companies in North America is nothing short of a vision becoming reality. It's humbling to be in the same group of companies making huge impacts on the world today. Looking around at the conference, there were multi-million dollar companies that have been in business long before Insticator's beginning, and we managed to stand out and win. It's truly rewarding to know that our work not only helps our clients succeed but is also adding immense value to the marketplace."
"What has excited me most is to see so many people forging niches in high-tech and cutting edge sectors," added Vieux. "Some of the technical wizardry and first-rate business models showcased here at the conference has been fantastic to learn about. We believe Insticator embodies the drive, skill and passion on which tech thrives. Insticator should be proud of its achievement - the competition was incredibly strong."
Approximately 300 finalists were invited to present their winning strategies at the Red Herring Top 100 North America conference in Los Angeles, June 12-14, 2017.
Following Insticator's Top 100 win, they are invited to the next step, which is to present themselves at the Top 100 Global event in November that will encompass the best-in-show from the Top 100 Europe, North America, and Asia. Red Herring is dedicated to support Insticator's continued path to success and innovation.
About Red Herring
Red Herring is a global media company which unites the world's best high technology innovators, venture investors and business decision makers in a variety of forums: a leading innovation magazine, an online daily technology news service, technology newsletters and major events for technology leaders around the globe. Red Herring provides an insider's access to the global innovation economy, featuring unparalleled insights on the emerging technologies driving the economy.
About Insticator
Insticator increases engagement and ad revenue for publishers through interactive content, while maximizing viewability and purchase intent for brands.
Founded in 2012, Insticator reaches more than 350 million visitors each month across its vast network of elite publishing partners including Warner Bros., Ancestry.com, Tribune Media, Rodale, Evolve Media, Crave Media, and The Atlantic. Insticator empowers more than 6,000 content creators each month with its revenue and engagement increasing products, while providing revenue-generating content opportunities for publishers and brands. On average, Insticator increases ad revenue by an unrivaled 160 percent, and engagement by 44 percent for publishers' websites.
Insticator offers users a "Set-It-and-Forget-It" model, allowing publishers to focus on creating amazing content for their visitors, while leveraging the ability of the Widget to transform that content into revenue, brand awareness, and growth. Insticator's technology delivers a world-class solution for today's media-rich, and content-savvy publishing websites and advertisers.
Press Contacts:
Kiersten Toye
Insticator, Press Representative
212-673-8969
kiersten(at)insticator.com