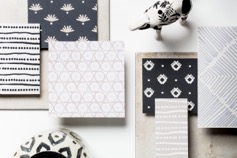 Los Angeles, CA (PRWEB) June 20, 2017
Dwell on Design, the Largest Modern Design Event on the west coast, opens its doors in just five days in Downtown Los Angeles. The 2017 event is loaded with exciting activities for the design loving community and the architecture and design professional network. Attendees will be immersed into everything modern with three days of inspiring speakers and education, a cash and carry shopping experience from artisans and craftsmen, design and building resources for the home, two days of exclusive Los Angeles Home Tours, and a host of unique experiences to meet iconic influencers in design. This event is built to transport you into the world of modern design. Dwell on Design will take place at the Los Angeles Convention Center, June 23 – 25.
BUZZWORTHY NEWS FROM DWELL ON DESIGN
THE SHADE STORE LAUNCHES NATE BERKUS COLLECTION
The Nate Berkus for The Shade Store Roller Shade Collection will debut at Dwell on Design. The Shade Store will host Nate Berkus in celebration of the product launch in space no: 2618, on Friday, June 23, from 4-6 pm.
KNOLL RETROSPECTIVE FURNITURE DISPLAY
Dwell on Design, in partnership with Dwell and Knoll, is celebrating Florence Knoll's 100th birthday. In honor of her incredible influence on modern design, a retrospective gallery of Knoll furniture will be on display in space no: 2102. Read her story.
HARP DESIGN CO. + RAYDOOR COLLABORATION
Clint Harp, well known for his unique hand-crafted furniture designs on HGTV's Fixer Upper, will have a display of his works on the floor, space no: 1646, at Dwell on Design 2017. Clint's vision for his company, Harp Design Co., is a hope that each handmade furniture piece brings people together in a home.
Raydoor, space no: 1746, believes in the transformational power of art, and the fluid potential it has to define a space and inspire the people inside. Their sliding doors permit light to travel through a space, while still providing an operational solution that transforms a room into a more functional and flexible space.
In a collaboration, Harp Design Co. has designed and constructed the furniture and Raydoor has designed and constructed the walls for the VIP I Media Lounge.
KIM LEWIS LAUNCHING HER NEWEST TINY HOME "THE JOSHUA TREE"
Kim Lewis, "The Little Lady with Big Ideas", is best known as the Lead Designer behind ABC's Extreme Makeover: Home Edition and founder of Kim Lewis Designs in Austin, TX. Her work has been featured on television networks ABC, HGTV, TLC, National Geographic, Spike TV, Animal Planet, and FYI's Tiny House Nation. Kim Lewis will present her newest home "The Joshua Tree", inspired by the famous desert oasis feature.
FLIP THROUGH THE DWELL ON DESIGN 2017 DIGITAL EVENT MAGAZINE
Just released, the #DODLA17 Digital Event Magazine. Flip through the digital event magazine to discover just some of the brands exhibiting at this year's event.
ADDITIONAL FINDS AT DWELL ON DESIGN
Come prepared to find unique things at every turn at this year's Dwell on Design. Below are just a few of the unique products at Dwell on Design. With over 2,000 products, it is hard to choose just a few.
Zimarty is an experimental design studio founded in Los Angeles. They design miniature scale architecture and create unique and accessible wearable art.
Hastens has Swedish excellence and a devotion for making the best beds in the world. Their beds are handcrafted by a team of artisans whose traditional techniques have been handed down through generations.
Barter is a design company that aims to inspire communities to reconnect to their natural materials and local craftspeople. Barter celebrates nature in its design above all else.
Magisso is the most awarded lifestyle brand from the Nordics in recent years with over 20 international design awards including many Red Dot, GIA and GOOD DESIGN awards. Magisso is joining Dwell on Design in the Finland Pavilion in celebration of Finland's Centennial 100th Anniversary.
Dwell on Design will take place at the Los Angeles Convention Center, Friday, June 23 from 10 am to 6 pm; Saturday, June 24 from 10 am to 5 pm; and Sunday, June 25 from 10 am to 4 pm. Architects and design professionals, along with the design enthusiast public, may purchase tickets online at dwellondesign.com/register.
###
About Dwell on Design
June 23-25, 2017 / Los Angeles Convention Center
With three days of dynamic exhibitions, unparalleled educational opportunities, new home technologies, onstage panels, 40+ speakers, and more than 2,000 innovative modern furnishings and products, Dwell on Design is the largest design event on the west coast. Learn more by visiting dwellondesign.com.
About Dwell
Dwell is a media and technology brand focused on design and architecture. Through an award-winning magazine that has been published since 2000, and a sharing platform launched in 2016, Dwell promotes an architecture that is optimistic and innovative. In December 2016 Dwell launched a collection of products with Target called Modern by Dwell Magazine. Dwell, Dwell Homes, Dwell Prefab, and Dwell on Design are registered trademarks of Dwell Media, LLC. Dwell Media, LLC is a wholly owned subsidiary company of Dwell Life, Inc.
About Informa, Global Exhibitions
Dwell on Design is part of Informa's Global Exhibitions Division. With over 200 trade and consumer exhibitions annually, Informa Exhibitions is a global market leader in such end markets as Beauty, Construction & Real Estate, Design, Life Sciences, Maritime, Health & Nutrition, Natural Products, Agriculture and Pop Culture. Through face to face and digital channels, our transaction-oriented exhibitions and trade shows enable communities to engage, experience and do business. In doing so, we bring together people who want to buy and sell, network, do business and gain inspiration. Our industry insight, coupled with our innovative and entrepreneurial approach, provides them with the opportunity to create business advantage and access markets.
Informa Exhibitions is a division of Informa PLC, a leading business intelligence, academic publishing, knowledge and events business, creating unique content and connectivity for customers all over the world. Informa PLC is listed on the London Stock Exchange and is a member of the FTSE 100.