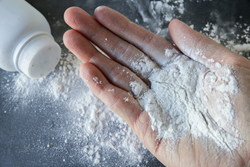 ...companies have been aware of the risk of prolonged exposure to talcum powder since the 1970s.
LOS ANGELES, CA (PRWEB) June 20, 2017
The California attorneys at Marlin & Saltzman are currently investigating cases against the companies responsible for producing talcum powder, more commonly known as baby powder.
Alan Lazar, the Marlin & Saltzman partner responsible for mass torts, states, "Our firm is committed to fighting for the rights of those injured due to the use of cancer-causing products."
Numerous scientific studies have linked ongoing talcum powder use to an ovarian cancer diagnosis. These studies have shown that companies have been aware of the risk of prolonged exposure to talcum powder since the 1970s. To date, there have been five successful verdicts against the responsible pharmaceutical companies.
The International Agency for Research on Cancer (IARC), part of the World Health Organization (WHO), classifies consistent "perineal (genital) use of talc-based body powder is possibly carcinogenic to humans."
The attorneys at Marlin & Saltzman are collaborating with the attorneys at McGowan, Hood & Felder of South Carolina to fight for the rights of women diagnosed with ovarian cancer because of continued talcum powder use. Women who used talc products daily for five or more years and have an ovarian cancer diagnosis may be entitled to compensation.
In 1999, an American Cancer Society (ACS) press release cited Joseph Imperato, M.D., president of the Illinois Division of the ACS, who stated, "The American Cancer Society currently recommends that women who wish to use powder use a cornstarch-based powder and avoid talc powders at this time."
Large pharmaceutical companies failed to share their knowledge of talc side effects from consumers for years. The experienced defective products attorneys at Marlin & Saltzman and McGowan, Hood & Felder, LLC can evaluate your case and help get you the compensation you deserve.
About Marlin & Saltzman
Since 1985, Marlin & Saltzman has helped thousands of clients gain fair compensation for their catastrophic injuries, employment and consumer class injuries. In our 30 years of experience, Marlin & Saltzman has recovered more than $850 million for our clients; becoming a preeminent law firm throughout California and the entire nation. Our team of attorneys has over 135 years of combined experience in mass torts, class actions and complex litigation. If you are in need of attorneys who will fight for the best compensation award possible for the losses you have suffered, contact Marlin & Saltzman, a law firm with a history of success. For more information about our firm, please visit our website at http://www.marlinsaltzman.com.
About McGowan, Hood & Felder
At McGowan, Hood & Felder, LLC, we are here to protect the rights of our clients who are the victims of medical malpractice and their loved ones. We will continue to fight any efforts to enact tort reform in South Carolina or at the federal level. If you suffered an injury due to medical negligence, our South Carolina medical malpractice lawyers can help. Please call us at 888-302-7546 or fill out our contact form at our website, at http://www.mcgowanhood.com/contact/ to learn more.