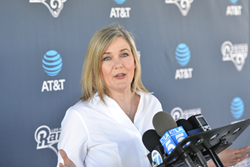 Los Angeles, CA (PRWEB) June 20, 2017
United Way of Greater Los Angeles and the Los Angeles Rams announced a community partnership on Wednesday, June 14, 2017, that aims to tackle education challenges and poverty in Los Angeles County. This newly formed partnership will help United Way reach its $63 million annual goal to transform lives and communities across L.A. County.
"We're excited to continue working with the Los Angeles Rams in order to ensure all children in L.A. County graduate from high school ready to succeed in college and careers," said United Way of Greater Los Angeles President and CEO, Elise Buik. "A quality education empowers children to create their own pathways out of poverty, meaningful lives, and sustainable careers – which is exactly what they deserve."
"Los Angeles is more than just a place we play football – it is also where we live and work. Teaming up with United Way gives us an opportunity to create change in our own backyard," said Rams COO and United Way Campaign Chair, Kevin Demoff. "The Rams are inspired to be partnering with United Way to transform the lives of our fans and neighbors."
Please click here for hi-res photos.
Education-focused initiatives include a career day and job shadow opportunities that will expose Los Angeles County high school students to careers in the sports industry, as well as the Fall into Literacy Community Book Festival on September 16 – a family-fun event attended by thousands – that fosters a culture of reading at home. In addition, United Way and the Rams will host a "Welcome Home Thanksgiving Dinner" event with newly-housed residents. The year's activities will be highlighted at the "Live United" Day when the Rams host the San Francisco 49ers at the L.A. Memorial Coliseum on December 31.
About the Los Angeles Rams:
The Los Angeles Rams, Los Angeles' original professional sports team, stand as one of the oldest franchises in the National Football League and since its founding in 1937, have garnered three World Championships and sent 30 of its members to the Pro Football Hall of Fame. As a professional sports team, the organization is committed to being a valuable civic partner and serving the greater Los Angeles area 365 days a year. For more information visit http://www.therams.com and follow the Rams on Facebook and Twitter, @RamsNFL.
About United Way Greater Los Angeles:
United Way of Greater Los Angeles is a nonprofit organization that creates pathways out of poverty by helping homeless people move into housing, providing students with the support they need to graduate high school prepared for college and the workforce, and helping hard-working families become financially stable. United Way identifies the root causes of poverty and works strategically to solve them by building alliances across all sectors, funding targeted programs and advocating for change. For more information, visit http://www.unitedwayla.org.