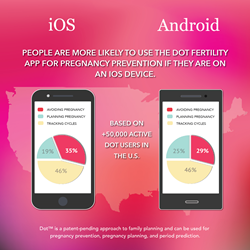 The difference between Android and iOS was surprising to us, and we are interested in exploring it further.
Washington, D.C. (PRWEB) June 20, 2017
Cycle Technologies, a developer of reproductive health solutions, has found a significant difference in how Android versus iOS device owners use mobile fertility apps. Analytics from over 50,000 active users of Dot™, Cycle Technologies' latest fertility app, show that Android users in the U.S. are more likely to use the app to plan pregnancy. Conversely, iOS users are more likely to use Dot to prevent pregnancy. Equal percentages of Android and iOS users rely on Dot to track their cycles.
Previous studies have shed light on the demographic, behavioral, and philosophical differences between Android and iOS users. Cycle Technologies' research is the first to explore the correlation between mobile operating systems and people's reasons for using a fertility app.
Dot is well-suited for the research because people can use the app to plan a pregnancy, prevent unintended pregnancy, or track menstrual cycles. Users enter their period start dates, and Dot's patent-pending technology, called Dynamic Optimal Timing™ (DOT), then predicts their day-by-day chance of pregnancy. Cycle Technologies developed the science and algorithm behind Dot™ in collaboration with global health experts from Georgetown University, Duke University, and The Ohio State University.
In the U.S., 22 percent of people use Dot to plan a pregnancy, 32 percent use it to prevent pregnancy, and 46 percent rely on it to track their cycles. However, the difference between Android and iOS users is striking. 35 percent of the Dot iOS cohort uses the app to prevent pregnancy compared to 29 percent of Dot Android group. Conversely, 25 percent of Dot Android users plan pregnancy with Dot compared to just 19 percent of iOS users.
Additional data can shed light on the mobile fertility divide. A 2015 study by Chitika, an online advertising network, finds that iPhone use correlates positively with higher levels of education. Moreover, the Bureau of Labor Statics (BLS) reports that women with a bachelor's degree or higher first marry at 25.9 years old on average, significantly later than women with some college (23.2), a high school diploma (22.3), or no diploma (20.9). Thus, women who use iOS may be more likely to want fertility tools that can help prevent pregnancy before marriage or before finishing their education.
"The difference between Android and iOS was surprising to us, and we are interested in exploring it further," says Leslie Heyer, founder of Cycle Technologies. "Demographic disparities or variations in how we market to each mobile operating system could lead people to use the apps differently."
Another possible explanation for the iOS-Android divide is trust in fertility apps. iOS users may place greater trust in Dot's algorithm, which researchers predict is 96 to 98 percent effective at preventing pregnancy. To see if that estimate holds true in real life, a team at Georgetown University is recruiting Dot Android users to participate in an efficacy study. People who use Dot Android to prevent pregnancy may be eligible and can apply through the app until the end of June.
Dot could create many additional research opportunities according to Dr. Summer Starling, a health scientist and reproductive health expert. Dr. Starling runs a research consulting firm, Starling Consulting Group, offering research and communications insights for maximizing health and social impact. Her firm is headquartered in Durham, NC.
"Consumers increasingly want products to help them navigate health decisions that are based in evidence," said Dr. Starling. "Dot is particularly exciting because it's merging reported behaviors and health metrics with big data analytics to improve its predictive quality, with a very consumer-centered, data-informed approach. An approach like this has promise as a scalable reproductive health solution. Reproductive health decision-making is not a fixed process, but happens on a continuum for many people. A next logical step would be to investigate how consumers are using Dot to make reproductive decisions throughout the 'lifecycle' of using the app as their reproductive intentions shift over time." 
About Cycle Technologies
Cycle Technologies is a social impact company focused on women's health. The company's mission is to prevent unplanned pregnancies and help people have the families that they want when they are ready. Founded in 2002, Cycle technologies products are available in over 60 countries and apps are available to anyone in the world with a smartphone. Learn more at http://www.CycleTechnologies.com