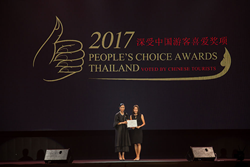 (PRWEB) June 21, 2017
The Tourism Authority of Thailand (TAT) held the "2017 People's Choice Awards Thailand Voted by Chinese Tourists" to recognize companies in Thailand's tourism industry in 14 categories, such as airlines, hotels, restaurants, and travel. Based on tourists' votes that were submitted on the official website; http://www.peopleschoiceawardsthailand.com.
Flight of the Gibbon were honored to pick up the award at the ceremony held at Central World in downtown Bangkok on Monday 12th June 2017. They were among 400 honored guests from the tourism field and related parties such as tourism associations, Thai and Chinese press and candidates.
Picking up the award on behalf of Flight of the Gibbon was Suwanus Yibpikul, whom said 'We are proud to be the only Zipline in the country nominated for this award, which is testament to the hard work and dedication of the entire team, we look forward to providing a leading Zipline eco canopy tour experience to not only our Chinese guests but people from around the world.'
About Flight of the Gibbon
Flight of the Gibbon is a leading global eco-adventure tour operator and the number one eco-tourism attraction in Thailand, thrilling customers with spectacular rainforest Ziplines that are among the longest and highest in the world.
Our Mission
Flight of the Gibbon connects people with Asia's nature, history and bygone stories while conserving nature and traditional livelihoods. Flight of the Gibbon is remembered as a once-in-a-lifetime experience with uniqueness, mystery and surprise that visitors taste, smell, see, hear and feel.