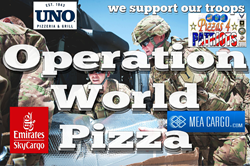 "...we are both encouraged and Blessed to be able to provide a slice of home to those who serve us. It's the little things that mean so much, any little thing from home means everything to them...it's such a morale booster.. "
(PRWEB) June 20, 2017
In support of remembering the commitment and dedication of the United States Armed Forces, the Non-Profit organization Pizzas4Patriots is preparing to send two thousand (2,000) pounds (appx 1400) of Chicago-style Uno's pizzas to deployed troops overseas in Afghanistan and Kandahar in time for this years Fourth of July activities. No small effort, this combines the teamwork of partners MEA Cargo and Emirates Airlines in order to facilitate the logistics operations; now in its second term under this team, along with the donated pizzas from Uno's.
Now in over its ninth year of operation, Operation World Pizza follows the previous efforts of this years Operation Pizza Bowl, nearly doubling that shipment. Throughout the year the organization also contributes to a number of Veterans organizations under the theme, "Serving those who serve us, both at home and away..." through a number of their other projects, including their Adopt-A-VA projects; also recognizing extraordinary heroes and their acts of courage, along with first responders.
Pizzas4Patriots was founded by Master Sargent Mark Evans, who has spent 26 years as active reserve...feels that;
"...we are both encouraged and Blessed to be able to provide a slice of home to those who serve us. It's the little things that mean so much, any little thing from home means everything to them...it's such a morale booster, and when they get something really special like the pizza, it really means a lot to them. We hope we can continue to grow and provide this, as we everyone knows it means a lot to them."
Plans are already in progress to do this; which will require them to deliver the pizzas to Kabul airport for a hand-off working with Emirates Airlines then requiring military transport and inspection to get them to the designated areas and into the Furthest Operating Bases. (F.O.B.)
This years launch will be televised locally and nationally June 22nd between 8 am and 11 am (CST) from Uno's Grill Downtown Chicago and will feature a 'supply chain illustrating their supply process and how it gets to the soldiers.' At the same time the 2,000 pounds of frozen pizzas will be making their way overseas in time for the soldiers to enjoy them this Fourth of July from the Uno's manufacturing plant in Boston.
Together with the Department of Defense (DOD) and through the support of their sponsors, along with your donations; Pizzas4Patriots again looks forward to providing United States soldier men and women a slice of home as thanks for their service to our Country...Pizza Pie's for the 4th of July.
For more information please visit;
http://www.Pizzas4patriots.com /.org
[ About Pizzas4Patriots
Pizzas4Patriots is a non-profit organization with the mission of making a positive difference in the lives of our service men and women. We proudly support those patriots presently serving, as well as our wounded Veterans. It is our goal to provide our Armed Forces with unique gifts from home. We have been fortunate to receive donations ranging from financial to products and services from individuals, families, corporations and other organizations, all wanting to show appreciation for the sacrifice of our brave troops. Our goal is to bring a little bit of home to the troops, and show them that they are supported by the Country and residents who enjoy the freedoms that they provide for us.
[ About Uno ]
Known for being the 'Original Chicago Deep Dish Pizza', Uno draws its identity and inspiration from the artisan heritage of the original. Each restaurant still makes their deep dish pizza dough fresh every morning. With the times, Uno is adjusting its menu to how people want to live their lives. It will always be about amazing flavor and wonderful menus that have the right balance between indulgent treats and delicious and nutritious choices.  There are over 130 Uno Pizzeria & Grill restaurants found in 21 states, the District of Columbia, South Korea, United Arab Emirates, Honduras, Kuwait and Saudi Arabia.
Emirates is one of the world's fastest growing airlines. Based in Dubai, Emirates connects people all over the world to a network of over 150 destinations. Emirates' superior on board products and services, welcoming cabin crew and modern all wide-body fleet are world renowned.
http://www.skycargo.com
[ About MEA Cargo
MEA cargo offers air, ocean, and ground shipments to every destination domestically and internationally. MEA also offers warehouse and storage solutions as well as pick and pack services. Our office and warehouse is located in Elk Grove Village, Illinois, just a short distance from O'hare International Airport. O'Hare is one of the largest transportation hubs in the US, making it ideal for connecting to rail, ocean shipping and truck transportation. This provides us with a wide-range of different shipping options, including flights to more than 60 foreign destinations.