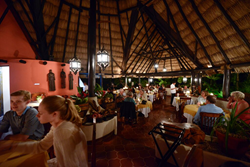 Thanksgiving here is a multicultural feast that combines the familiar with the exotic
San Ignacio, Belize (PRWEB) June 28, 2017
The Lodge at Chaa Creek has just posted this year's 2017 Thanksgiving invitation on their website "to give people plenty of time to plan, and to guarantee a spot at the table during our annual feast," the Belize eco-resort's general manager announced.
"Having seen how popular our Thanksgiving in Belize vacations have become since we started the tradition over thirty-five years ago, we decided to put the invitation up and begin accepting bookings early this year," Bryony Fleming Bradley explained.
"This way our guests can start contacting family and friends and work with us to plan a Thanksgiving they'll be talking about for many years to come."
Chaa Creek's Thanksgivings began in the late 1970s when Mick and Lucy Fleming invited local farmers and friends to celebrate their first successful harvest since establishing a small farmstead on the banks of Belize's Macal River. The young couple had been working sunup to sundown to create a viable farm and had no idea that, decades later, Chaa Creek would evolve into one of Belize's first and most highly awarded eco-resorts.
"The Chaa Creek you see today would have been well beyond our wildest dreams," Lucy Fleming said. She described how, after hosting a growing number of early adventurers, birdwatchers, Maya temple explorers, archaeologists, researchers and others who heard that the hospitable Flemings welcomed visitors to what was then a remote part of a country few people even knew existed, she and husband Mick decided to turn their farm into a true eco-resort that reflected their environmentalism.
After Belize gained independence from Great Britain in 1981 and a nascent tourism industry emerged, more and more people began arriving, and Chaa Creek grew to meet the demand, starting with simple one-room thatched-roof cabins that became "Chaa Creek Cottages".
Growth was steady, and today The Lodge at Chaa Creek boasts a wide range of accommodations. The rustic Macal River Camp recalls the early days, the signature cottage collection features tastefully appointed rooms, and the suites have accommodated guests that include members of England's Royal Family. More recently, the Ix Chel Luxury Rainforest Villas are setting new standards for jungle luxury in a private setting with floor to ceiling glass walls and doors, personal plunge pools, Jacuzzis and a dedicated personal butler.
With a highly regarded restaurant and lounge featuring farm-to-table dining courtesy of an on-site Maya organic farm, the internally recognised Hilltop Spa, a Belize Natural History Museum, Butterfly farm, conference centre, fleet of canoes and a herd containing some of the country's best horses, Chaa Creek has earned the reputation as Belize's "Destination Within A Destination" by travel professionals.
And as a family owned and operated lodge, the Flemings are keen to preserve the homespun hospitality that attracted visitors in the first place, with the annual Thanksgiving feast being a prime example of their approach.
"For us, it's an annual reminder of that first Thanksgiving, of our very humble beginnings, of all the cooperation we received from our neighbours and local villagers, and how much we have to be thankful for," Ms Fleming said.
Chaa Creek's Thanksgiving vacation is a flexible holiday that can be tailored to suit families, couples, groups and individuals looking to enjoy a different, yet still very traditional Thanksgiving, she said. Roast turkey with all the trimmings, mashed potatoes and gravy, pumpkin and apple pies and other familiar fare is served alongside Maya, Mestizo, Creole and Garifuna Belizean cuisine.
"Many people don't realise that the local ancient Maya enjoyed feasts very similar to the American Pilgrims and Native Americans. Turkey, corn and types of pumpkin all featured in Maya cooking, so guests can also expect tamales, cassava, rice and beans and other local dishes served with fresh organic vegetables from our gardens and seafood from Belize's Caribbean coast.
"Like everything in Belize, Thanksgiving here is a multicultural feast that combines the familiar with the exotic," Ms Fleming Bradley explained, "I think that has a lot to do with it's popularity," she added.
The opportunity to work off the feasting with swims in the infinity pool, nature walks, horseback riding and hiking along miles of jungle trails crisscrossing Chaa Creek's 400-acre private nature reserve containing some 70 ancient Maya archaeological sites, as well as canoeing the tranquil Macal River and other healthy activities is also part of the appeal, she said.
"It's a Thanksgiving that becomes a very complete vacation. Families love it, because there are so many things to do together and individually for people of all ages, and it's wonderful to see everyone – from the grandparents to toddlers, having a great time. Couples also enjoy it as a way to have a big Thanksgiving together without having to buy each and every thing, and individuals enjoy it as a way to meet new people and have a family style experience. It's just a great atmosphere," Ms Fleming Bradley said.
Chaa Creek's Thanksgiving may be booked on a daily basis, or as part of an all-inclusive Belize vacation package for three to seven days, and "Rainforest to Reef", or surf and turf options are also available for those guests wishing to combine a Caribbean beach holiday with their vacation.
"Our long relationships with our Caribbean partner resorts on Belize's Caribbean coast, cayes and the Belize Great Barrier Reef allow us to offer a seamless all-inclusive vacation package between both resorts for one surprisingly affordable set price," Ms Fleming Bradley said.
With details now finalised, people can contact their travel agents or Chaa Creek directly for further information or to make bookings for Chaa Creek's 2017 Thanksgiving vacation, she added.
"Thanksgiving is something we really look forward to, with our own family gathering with old friends and new guests to enjoy good food, good company, and the good things in life in a natural setting. And after so many years, it just keeps getting better," Ms Fleming said.
The Lodge at Chaa Creek is a multi-award winning eco resort set within a 400-acre private nature reserve along the banks of the Macal River in Belize. It was recognised by National Geographic with first place honours at the 2017 World Legacy Awards held in Berlin.