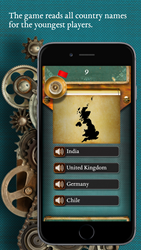 (PRWEB) June 21, 2017
"Our goal is to create games that are both entertaining and let you spend your time well," says Tomasz Mularczyk, the founder of MythicOwl studios. "We want to continually refine our productions at every level, so we have not only added a module with the contour of countries to the latest version of Geo Flags Academy, but we also improved the game mechanisms itself. The innovation includes the use of an algorithm that optimizes the learning process. The application analyzes the current course of the game and, based on this, presents the player with the flags in such an order and at such intervals that will increase learning effectiveness while keeping the entertaining nature of the application.
In addition, the game contains a few hundred trivial facts about the countries that are hidden under the flags. In order to get to know them, during the game, simply "drag" the flag down to the bottom of the screen. Geo Flags Academy also allows you to polish up your foreign languages - the application is available in five languages: English, Spanish, German, Polish and Italian.
Geo Flags Academy can be downloaded on all major mobile platforms: iOS, Android and Windows Mobile. The flag learning module is available for free, while access to the capitals and outlines module is a one-time purchase of 0.99 USD/EUR. As in all MythicOwl games, there are also no ads in this game.
Geo Flags Academy is another innovative MythicOwl project. We have been developing mobile games since 2014 (previously we were using the SteamBytes brand), and this year we have also created our first educational product for Virtual Reality - Seabed Prelude. In the near future, the company's portfolio will include further programs, not only for children but also for parents.
More information about the studio can be found at http://www.mythicowl.com