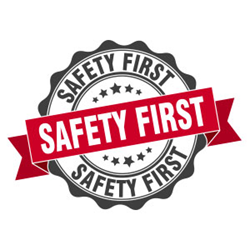 No matter what precise approach they take, we hope companies embrace National Safety Month as a chance to improve warning labels.
Denver, CO (PRWEB) June 21, 2017
Labels and Stickers Promote Safety
Every June is set aside as National Safety Month, a time to think about keeping people safe and secure. Companies can use this month as a reminder to work on the labeling of their products and security of their spaces.
Would warning labels make the items safer? Could warning stickers help people stay safe in a business's facilities? If so, there's no better time to order new labels or stickers. Lightning Labels' affordable and fast ordering process lets brands get their safety-focused custom labels during National Safety Month - or any time.
Beyond Compliance
Obeying product labeling laws is natural for conscientious companies. Once brands have compliance with the rules, however, they are free to go further. National Safety Month is a great time to review every piece of product labeling to see if warning labels will let consumers know more about the proper use or handling of a particular item.
Stickers and Decals
In addition to changing the custom labels attached to their products, companies can think about stickers and decals. Warning decals and stickers can go on potentially hazardous items in a business's space, or they can be applied to the exterior of packaging. Machinery, heavy equipment or even stairs or low overhangs can get eye-catching warning stickers that will send the right message.
"No matter what precise approach they take, we hope companies embrace National Safety Month as a chance to improve warning labels," said Lightning Labels Director of Business Development AnneMarie Campbell. "Lightning Labels can help them accomplish this task, and we're proud to take the role on."
Ordering Labels and Stickers
It's easy to get new custom labels and stickers when companies work with an all-digital printer such as Lightning Labels. Between low minimum orders and lightning-fast turnaround times, it's possible for businesses to take action during National Safety Month, even though June has already begun.
About Lightning Labels:
Lightning Labels uses state-of-the-art printing technology to provide affordable, full-color custom labels and custom stickers of all shapes and sizes. From small orders for individuals to the bulk needs of big businesses, Lightning Labels is equipped to handle and fulfill custom label and sticker projects of all types. Best of all, like the name implies, Lightning Labels provides a quick turnaround for every customer's labeling needs. Uses for Lightning Labels' custom product labels and custom stickers include food packaging and organic food labels, wine and beverage labels, bath and body labels, and nutraceutical products, such as vitamins, essentials oils, and herbal remedies, as well as event stickers, adhesive window stickers and more. Lightning Labels strongly supports the development of environmentally friendly printing materials and carries EarthFirst PLA, a new kind of green label material made from corn instead of petroleum. While operating as a high-tech printer, Lightning Labels prides itself on its personalized customer service. Lightning Labels provides one stop shopping for all of your custom label needs. For more information and to place orders online, visit LightningLabels.com. For the latest in packaging news and labeling promotional offers, find Lightning Labels on Twitter (@LightningLabels), Facebook, Pinterest, Google+ and LinkedIn.