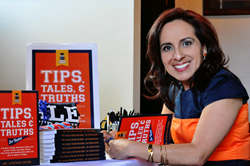 With the college admissions process, students choose their list of colleges to apply to with their head. Ultimately, they choose their final destination with their heart."
Burbank, Calif. (PRWEB) June 21, 2017
Dr. Cynthia Colón knows how a college education can be the key for a successful career. Using her years of experience and knowledge as an educator, she presented a game plan for high school students to help them navigate through the college admission process during the June 11 launch of her new book "Tips, Tales & Truths for Teens" in Burbank.
"With the college admissions process, students choose their list of colleges to apply to with their head," she said. "Ultimately, they choose their final destination with their heart."
The book contains 33 practical tips and truths about the college admission process. The tales are inspired by real students that Colón went to school with at Bellflower High School in Bellflower, Calif., met across the country while recruiting for Vassar College in Poughkeepsie, New York or guided as a counselor, dean or principal at Marymount High School in Los Angeles or St. Bernard High School in Playa Del Rey, Calif.
Some of the stories include students like Michael who finds other parents to help him in the college process, Amie who works 18 months to improve her SAT scores, Olivia who organizes annual eye clinics and stands out in the admission process as a leader, and Craig and Jeremy who prove that failures can highlight perseverance. All of these examples present a bigger picture of applying to college.
"You have control over the college admission process and with a plan, anything is possible," Colón said.
One truth she shared was that there are many counselors and educators across the nation are striving to give every student the tools and support to succeed in the college admission process but there are not enough of them.
"The national student to counselor ratio is 477-to-1, in California, that average jumps to 945-to-1, and at LA Unified, the average is 690-to-1," she said. "Tips, Tales & Truths is meant to supplement what the educators are doing as well as the resources and support that you have at home."
Guests such as Letty Galvan know the personal dedication Colón has given to help students like her son Fabian.
"I have known Cynthia for four years," Letty Galvan said. "We are so proud of her. We know she is a hard worker and an over-achiever. We are so thankful to her and we believe she was God sent to help my son Fabian. She was his principal while he was in school."
For information about Dr. Cynthia Colón, please visit her website at http://drcynthiacolon.com/
About Dr. Cynthia Colón:
Dr. Cynthia Colón holds a Bachelor of Arts from the Annenberg School of Communication at the University of Southern California, a Master of Arts in Higher Education Administration from Teachers College, Columbia University, and a Doctorate of Education from the University of California, Los Angeles. As the Principal of St. Bernard High School, her leadership, vision, and strategic planning led to a dramatic turnaround at the institution and over the years, Dr. Colón led fund raising efforts, bringing in nearly $2 million in renovations. Further, academics became a major focus and several innovative programs were implemented including; single-gender math and science. Prior to becoming a principal, Dr. Colón spent 12 years at Marymount High School in Los Angeles, as its director of college counseling, assistant academic dean, and dean of students. In addition, she also has experience with the college admissions process as a former assistant director at Vassar College in New York, where she was responsible for recruitment in seven states throughout the country. As the first to attend college in her family, Cynthia grew an intense passion for higher education. She founded Co-Ed College Consultants, Inc. to assist students in writing their college essays through a four-day workshop. For information, visit: http://drcynthiacolon.com/