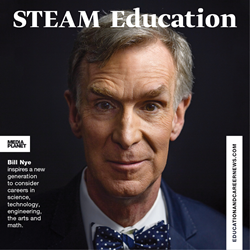 U.S. millennials ranked dead last out of 19 countries tested in problem solving with technology...
New York, NY (PRWEB) June 20, 2017
According to a study reported by "Change The Equation," U.S millennials ranked dead last out of 19 countries tested in problem solving with technology, a huge reason behind this problem is the lack of diversity when it comes to Science, Engineering, Technology, and Math (STEM). That is why Mediaplanet is proud to announce the launch of its seventh edition of "STEAM Education," which aims to inspire and empower the next generation of future STEM leaders and showcase the organizations doing their part to make STEM diverse.
The print component of "STEAM Education" is distributed within an edition of USATODAY, in the New York, DC, Baltimore, Houston, Chicago and San Francisco markets with a circulation of approximately 250,000 copies and an estimated readership of 750,000. Its digital component was distributed nationally, through a vast social media strategy, and across a network of top news sites and partner outlets. To explore the digital version of the campaign, CLICK HERE.
Katherine Manuel, senior vice president of innovation at Thomson Reuters states "School teachers are realizing the need for a push to ensure that STEM curriculum is inclusive of both young boys and girls. Girls need to be encouraged, instead of made to feel like they're not as good as the boys in those subjects." With this campaign, we aim to showcase the importance of mentorship for young women, and hopefully inspire them to pursue a career in STEM.
This campaign was made possible with the support of Bill Nye, NASA, Project Lead the Way, Women in Technology International, Emily Dawn Calandrelli "The Space Gal," Jackson State University, National Math and Science Initiative, Code to Inspire (First Girls Coding School in Afghanistan), The National Inventors Hall of Fame, Boy Scouts of America, Project Mc2, Future Engineers, YMCA and UTeach.