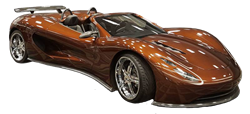 "This event further validates our strategic business development skills. Similar to our event in New York, the interest level is very high. Bringing John Salley to the table only enhances an already sexy opportunity." – Steve Nudelberg
Miami, FL (PRWEB) June 20, 2017
Steve Nudelberg, Principal Thinker of On the Ball Marketing, is excited to announce an exclusive press conference with John Salley and Ronn Ford, CEO of RONN Motor Group.
This event is on June 22, 2017 from 4:00pm-5:30pm at Marlins Park in Miami, FL. to discuss the making and future of electric-hydrogen vehicles. Press is invited to attend and hold individual interviews following.
This event will be an exclusive One-on-One with John Salley, Entrepreneur, NBA Champ, Actor, and Philanthropist, interviewing Ronn Ford, CEO of RONN Motor Group, about his global commitment to take care of our world. On behalf of Ronn Motor Group, On the Ball has brought together some of South Florida's leading entrepreneurs and influencers to learn about the future of the electric automobile industry.
"In keeping with our mantra that key introductions can significantly grow a business, this event further validates our strategic business development skills. Similar to our event in New York, the interest level is very high. Bringing John Salley to the table only enhances an already sexy opportunity." – Steve Nudelberg
RONN Motor Group, Inc. is a multi-national, automotive company. As part of the new electric-hydrogen automobile industry, we create a full line of next-gen, eco-friendly, electric vehicles ranging from sports cars to trucks.
On the Ball has been in business for over twenty-two years. Starting out as a sports marketing company to a traditional marketing agency to business development resource. Acclaimed for its strategic thinking and sales-focused abilities, On the Ball specializes in all things sales. By investing time and talent in emerging ideas, the agency can specifically help companies grow.