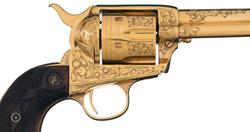 Nearly 10,000 Gun Auction
Rock Island, Ilinois (PRWEB) June 21, 2017
The February 2017 gun auction shattered RIAC records for participation, taking in tens of thousands of bids before the auction ever began. The June event will look to build on that success and put thousands of collector firearms into the waiting hands of enthusiasts from coast to coast. There are numerous multigun lots allowing collectors to pick up several desired arms with a single bid, and with over 80% of the lots holding an estimate between $800-$1,500, it won't get any easier to start an enviable gun collection.
If the selection is any indication, June promises to make a lot of satisfied collectors. Leading the way for the sale are an astonishing six Henry rifles, including an engraved example and another used by the 1st District of Columbia Cavalry during the Civil War. These "damned Yankee rifles" are followed by a host of classic Winchester lever action rifles in any model a collector might desire. In fact, there are more Winchesters in this sale than any other manufacturer with nearly 750 to choose from.
Not far behind the lever guns are the Colts. Nearly 550 appear in this firearms auction and they run the gamut: rare longarms, black powder revolvers, early semi-autos, coveted Colt Python snake guns, and of course, the vaunted Model 1911. A "blue chip" of the gun world, this sale provides hundreds of opportunities to invest in these classic American arms.
These are only the most popular two manufacturers of the hundreds present in this sale. Remington, Smith & Wesson, Springfield, Ruger, Marlin, Browning, Mauser, U.S. military arms, foreign military arms, Beretta, Walther, and so many more will all be present in abundance. Rock Island Auction will host a full day preview on Wednesday, June 21 from 9:00 – 6:00 for those who wish to inspect or view the items.With nearly 10,000 collectible firearms, Rock Island Auction Company's June 22 – 25 Regional Firearms Auction is an event certain to cause excitement among firearms enthusiasts. Those interested may search and place bids using RIAC's online gun auction catalog.