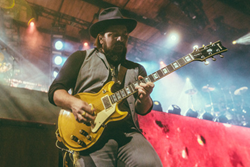 The introduction of Vai's signature JEM in 1987 took the world by storm.
Oakland, NJ (PRWEB) June 21, 2017
In celebration of its long standing relationship with legendary brand, Ibanez, American Musical Supply has released this new behind-the-scenes article, by journalist Michael Barberich. After months of interviews (with officials in the USA & Japan), research, fact checking, and brand approvals, this new article highlighting Ibanez's early history, achievements, and cultural significance was published on the official AMS Ibanez brand page.
Founded in 1908 by Yoshitaro Hoshino, the Hoshino Gakki Co. (parent company of Ibanez and Tama) is a pioneering and renowned icon of the musical instrument industry. From humble beginnings through over a century of achievement, its storied history is replete with examples of revolutionary products.
We asked Yoshihiro Hoshino, Chairman of the Japanese company, about this impressive accomplishment. He credits their success and longevity to "creativity, quality, customer service and offering value for the money." Even before the company's bold expansion as one of the first Japanese musical instrument companies to gain traction in Europe and the USA, one key to the success of Ibanez has been their unwavering commitment to innovation.
With their effects, accessories, amps, and instruments – Ibanez is a company that combines quality with variety. With manufacturing in Japan, Indonesia and China, (and a custom shop in Los Angeles), there are currently (including color variations) over 300 Ibanez Electric Guitars, about 165 Ibanez Bass Guitars and 130 Ibanez Acoustic Guitars.
Responsible for a slew of groundbreaking and popular products, Ibanez design ideas often derive from their close working relationship with popular artists. I had a chance to speak with Thomas Appleton, Sales Strategist for Guitar & Electronics, and he offers this insight; "A lot of people don't know that Ibanez created one of the first multi-effects. The reasoning was fairly simple. The Grateful Dead, who we were working with at the time, didn't like having a ton of cables running across the stage so they requested a multi-effect unit that would replace the need for multiple cables."
The alliance with The Dead continues to this day with the ornate BWM1 BS Bob Weir Signature Model. Mr. Appleton continues "What sets Ibanez apart from most brands is our willingness to work with our artists on developing new products. I think this has had a tremendous impact on our past, present and future. By providing musicians with the right tools for their trade we've been able to develop new ideas and sounds that would be unreachable without the research and development that goes into these processes. These ideas germinate and grow and prosper and migrate to regular models, which provide customers with features that you normally couldn't find on anything other than boutique instruments."
The Ibanez Artist Roster is beyond impressive and includes everyone from hollow body greats like John Scofield, Eric Krasno and George Benson, who teamed up with Ibanez in 1977 and is their longest running endorsee, to Rock guitar's biggest names like Paul Stanley, Joe Satriani and Steve Vai.
Asked how big a deal it was to sign up Vai, who was then providing guitar acrobatics for Frank Zappa, Appleton recounts "When we signed Steve, it was huge for Ibanez. All of the other brands were trying to court him at the same time we were, but they were sending him stock guitars without considering his needs. We researched his playing and provided him with a guitar that suited his needs. That got his attention and we developed our relationship and worked with him to introduce his ideas and the JEM was born." The introduction of Vai's signature JEM in 1987 took the world by storm.
This is an abridged version. To read the complete story, visit the official Ibanez brand page at AMS.
Copyrights: use of this story, in part or in full, is granted provided original source page is referenced: https://www.americanmusical.com/Ibanez