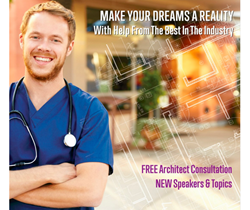 Attendees will gain valuable knowledge that will save time and money.
San Antonio, TX (PRWEB) June 21, 2017
Southwest Veterinary Symposium invites veterinarians and office managers who are planning to build or remodel a veterinary facility to the SWVS 2017 Design Conference in San Antonio, TX from September 21 to 22, 2017. Attendees will gain valuable knowledge that will save time and money.
Anyone who is involved in the building or remodeling project will benefit from hearing the nationally recognized experts, regardless of what stage they are in. SWVS is proud to have Dan Chapel, AIA, NCARB; Scott Learned, MS, MBA, PE, LEED AP; Heather Lewis, AIA, NCARB; Sal Longo, Jr., AIA, NCARB; and Wayne Usiak, AIA, NCARB; share their expertise in the field of veterinary architecture, site selection, building, and remodeling. Dr. Karen Felsted, CPA, MS, DVM, CVPM, CVA, specializes in financial consulting for veterinarians will address the critical strategic planning and budgeting aspect of building or remodeling.
"This year's conference will include new topics, networking opportunities, and, most importantly, a free consultation with a specialized architect," Design Conference Chair Dr. Darryl Leslie said. "The consultation allows priceless one-on-one time with an expert in the field. This is a great opportunity for our attendees, so be sure to bring your floor plans and your questions. Also, new this year is the Design Conference Happy Hour where attendees will have the opportunity to network with our speakers, sponsors and owners who have been through the process of building or remodeling a practice".
SWVS is the only veterinary conference that offers the option to attend only the Design Conference portion of the event. Design Conference attendees may choose to also attend the main SWVS symposium, which offers continuing education courses on a variety of topics and a one-of-a-kind exhibit show floor.
Gold Sponsors for the SWVS 2017 Design Conference are Bank of America Practice Solutions, TriStar Vet, TWC and United Community Bank. Silver Sponsors are BBVA Compass, Live Oak Bank, Code 3 Construction and Shor-Line.
Please visit http://www.swvs.org/design_swvs.cfm for more information and to register.
__________________________________________________________________________________________________
Southwest Veterinary Symposium is a partnership of the Arkansas, Louisiana, New Mexico, Oklahoma and Texas VMAs, as well as the Oklahoma Veterinary Technician Association and the Veterinary Team Association of Texas. We provide continuing education for veterinary professionals in the Southwest region and the nation. Symposium profits are returned to the partner states.
The annual symposium is held each fall in the Southwest and includes continuing education, exhibits, interactive labs, and social activities. We serve DVMs, RVTs, hospital personnel, veterinary and technician students, and the suppliers who provide the products and services that support veterinary medicine.