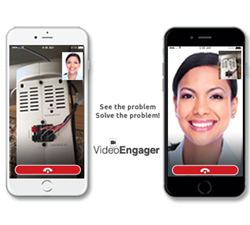 "Nothing conveys information better than live video, and nothing is faster or more convenient than delivering that live video to whatever device the consumer happens to be using — be it a phone, tablet, or laptop." Nikolay Bankov, CEO, VideoEngager
San Francisco, CA (PRWEB) June 22, 2017
VideoEngager, a leading provider of enterprise video calling applications for sales and customer support, has launched SmartVideo on the Genesys AppFoundry, a newly available online marketplace focused on customer experience solutions. The AppFoundry allows Genesys customers to discover, research and connect with a broad range of customer experience applications, integrations and services that address their unique customer needs.
VideoEngager's SmartVideo solution enables easy 1-click video-calling for remote customer support and/or sales, empowering customers to interact via live video with contact center agents with a click of a button on any device.
SmartVideo for Genesys is affordable, easy to set up and use, and allows contact center agents to escalate a customer interaction to a live video call — all directly from the Genesys environment. If a customer service agent cannot resolve the customer's problem quickly, the agent can transfer the video call to an available field expert who can provide pre-sales or post-sales support over live mobile video.
Video customer service provides new insight into customer issues because the customer can actually show the problem to an expert in real time on live video. SmartVideo also brings a new dimension to eCommerce and online shopping, allowing web visitors to be transferred to an in-store expert who can show them a product of their interest, upsell them, or demonstrate the functionality of an item via two-way live video.
"Today, 75 percent of customer journeys start on mobile, web, or social and this trend is only accelerating," said Merijn te Booij, chief marketing officer of Genesys. "Response to this digital imperative is increasingly important for companies competing on the battleground of customer experience. By building on the AppFoundry and Genesys Customer Experience Platform, VideoEngager leverages the widest breadth of omnichannel journey management capabilities to improve customer experiences for companies worldwide."
"When it comes to customer service, whether it's pre-sales or post-sales service, customers just want good answers as fast as possible," said Nikolay Bankov, CEO of VideoEngager. "Nothing conveys information better than live video, and nothing is faster or more convenient than delivering that live video to whatever device the consumer happens to be using — be it a phone, tablet, or laptop. Great service is really about feelings and an emotional connection, and live video delivers that highly engaging human experience that connects customers to your brand. We call this 'conversational commerce,' and we deliver it through our SmartVideo tool which is fully integrated with your existing Genesys platform."
SmartVideo lets customers connect in seconds, creating an emotional connection with a brand. This increases client satisfaction and Net Promoter Scores (NPS) by creating passionate advocates, increasing agent productivity by solving issues faster, and decreasing support costs. Armed with this "eyes on the problem" remote live video technology, support and sales agents can provide customers with a truly immersive omni channel experience. The product does not require any additional hardware and is applicable to Genesys customers across diverse industries, including automotive, retail, healthcare, telecom, financial services and others.
About VideoEngager
VideoEngager is the premier mobile and web video solution for customer support and sales. It allows brands to instantly connect with web visitors via chat, audio and video in real-time adding leads into the sales pipeline, shortening sales cycles and allowing customers to demonstrate their problems. VideoEngager provides brands with a personal, high-touch conversion tool that increases sales conversions and brings customer satisfaction.
Learn more at http://www.videoengager.com or follow VideoEngager on Twitter, LinkedIn or Facebook.