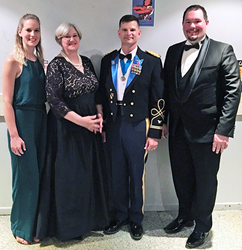 Suitland, Maryland (PRWEB) June 21, 2017
Andrews Federal Credit Union recently sponsored the 2017 U.S. Army Ball, held at Supreme Headquarters Allied Powers Europe (SHAPE), Belgium.
The Ball, an annual event put together to celebrate the birthday of the U.S. Army, had special significance this year. This year marks 50 years of SHAPE's presence in Belgium. Guest speaker, LTG Frederick B. Hodges, Commanding General of U.S. Army Europe, spoke on the history of SHAPE and its importance to NATO.
"Every country of NATO has fought against each other, but now 29 nations are getting along great," said Hodges. "This is the greatest military alliance in history. Despite all of our problems and challenges, our partners know we will be here for them."
"It is a great privilege to sponsor a night that celebrates our soldiers", said Andrews Federal's Joshua Barrett, Chievres Branch Manager. "They put themselves in harm's way to protect us, and this is an evening where they can relax and simply have a great time."
About Andrews Federal Credit Union
Andrews Federal Credit Union was founded in 1948 to serve the needs of military and civilian personnel by providing a vast array of financial products and services. With over $1.5 billion in assets, Andrews Federal has grown to serve more than 120,000 members in the District of Columbia, Joint Base Andrews (MD), Springfield, Virginia (VA), Joint Base McGuire-Dix-Lakehurst (NJ), and military installations in central Germany, Belgium, and the Netherlands. In addition, the Credit Union serves as a financial partner with many select employee groups in Maryland, the District of Columbia, Virginia and New Jersey.
To learn more about Andrews Federal Credit Union and its community involvement, or to become a member, call 800.487.5500 or visit http://www.andrewsfcu.org.