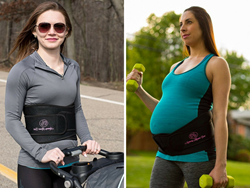 Mommy Knows Best Highly Recommended by Moms
Woodstock, IL (PRWEB) June 21, 2017
Online retailer Mommy Knows Best (http://mommyknowsbest.com) has introduced its new belly band to the market. Maternity specialists recommend using maternity support bands both during and after pregnancy to provide relief for a range of physical issues such as back and joint pain, overall posture problems, mobility, and for effective healing post-pregnancy. The Mommy Knows Best belly band is available for $19.99, with free shipping anywhere in the United States.
The Mommy Knows Best pregnancy support belt is ultra-comfortable, made of a soft breathable material specifically designed to be worn under prenatal and postpartum clothing during day to day activities without limiting movement or compromising comfort. It features easy to use multi-layered Velcro straps for a quick and secure fit.
Some of the benefits from wearing a belly band include:

Decrease Pain - Sacroiliac joint pain which can sometimes be excruciating in the lower back, as well as round ligament pain on the front of the hips and below the belly, are both measurably decreased with use of a belly band.
Provide gentle compression during activities – a belly band helps to support the uterus and reduce discomfort during physical activity, from daily movement to directed exercise.
Improve posture – maternity belts guide the body into correct posture to prevent overextension of the lower back and avoid the typical "sway back" appearance during pregnancy.
Post-pregnancy support and healing – during birth, muscles and ligaments are stretched, strained and weakened overall. Postpartum use of a pregnancy shaper can help women who have experienced separation of the abdominal muscles by physically pulling them closer.
About Mommy Knows Best
Mommy Knows Best was founded in 2014 with the mission to create safe and natural products for nursing mothers who need assistance increasing their breast milk supply for their new born babies. The company has since evolved into a convenient one-stop shop for new moms to turn to for all their breastfeeding, health, & beauty needs. All our products are specially formulated and customized to meet the unique needs and challenges a new mother can face during her first years of motherhood.