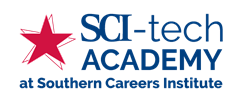 ...many of the programs that students take are not giving adequate time for a student to absorb and understand why they are doing a task...
Austin, Texas (PRWEB) June 22, 2017
Until now, technical schools have traditionally been behind some of the newer, leaner institutions when it comes to teaching the top skills one needs to succeed in the tech industry.
As long as we continue to wake up every morning to Alexa's voice as our alarm, book a ride through Uber, and listen to our life's soundtrack on Spotify, companies will continue to demand software engineers to build and maintain the apps that power our lives.
"We've spoken extensively with employers hiring coding boot camp graduates and found that their worry is that many of the programs that students take are not giving adequate time for a student to absorb and understand why they are doing a task, but typically are just memorizing a process," shares SCI CEO Jacob Mayhew. "SCI-Tech Academy has developed a program that provides a deeper teaching around each topic and extends the learning time from 12 -18 weeks to 33 weeks."
The technology programs are powered by SCI-tech Academy and include Computer Support Specialist, Full-Stack JavaScript, and now their newest program, Software Developer. The course which is offered online, allows for maximum flexibility and allows the student to 'choose their own learning adventure'—either pursuing the .NET or JavaScript pathway. Students have the opportunity to earn up to 13 "skill-badges" that demonstrate their proficiency in various technologies and programing languages along the way, including "Front-End Foundations," and "Web Security." Graduates of the program will emerge to excel in an entry-level full-stack software developer role.
And these jobs aren't going away. According to the U.S. Bureau of Labor Statistics, software developer jobs are expected to grow at a "much faster" rate compared to other professions --17% from 2014 till 2024. (Source: https://www.bls.gov/ooh/computer-and-information-technology/software-developers.htm#tab-6)
Members of the media, and anyone interested in learning more about this new program, are welcome to attend the HackerNest Austin Tech Social Happy Hour sponsored by SCI-tech Academy on June 28, 2017 RSVP: http://bit.ly/HackerNest062817.
For more information on Southern Careers Institute's Software Developer program, please visit http://sci-techacademy.com.
About Southern Careers Institute
Southern Careers Institute was founded in 1960 in Austin, TX. Since opening its doors, SCI has expanded its facilities to include seven campuses located in Austin, Brownsville, Corpus Christi, Harlingen, Pharr, San Antonio (North Campus), and San Antonio (South Campus) plus virtual courses offered online. SCI has offered medical and business programs since 1992, and today, SCI offers a variety of programs in the fields of medical, pharmacy, business, technology and trades. In 2016, SCI launched SCI-tech Academy, a collection of career training programs focused on the technology sector which offers programs online as well as at several of SCI's campuses.
Southern Careers Institute has also developed a laser focus on making students more marketable with customized and employer tailored programs. We call our approach The SCI Edge, and it makes our students as competitive as those of any accredited colleges or technical schools in Texas.
For more information, contact:
Adrian De La Garza, Executive Director of Marketing and Analytics
Southern Careers Institute
512-437-7543
adrian.delagarza(at)scitexas.edu
http://www.scitexas.edu/