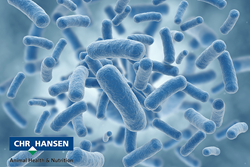 Jupiter, FL (PRWEB) June 23, 2017
American Farmer, will feature Chr. Hansen, Inc (CHR Hansen) in an upcoming episode of the award winning series, which is slated to air fourth quarter 2017. American Farmer airs Tuesdays at 8:30aET on RFD-TV. Check your local listings for more info.
Christian D.A. Hansen, a Danish pharmacist, founded Chr. Hansen in Denmark in 1874 after a groundbreaking discovery of how to industrialize enzymes. Rooted in science and grounded in food production and agriculture, Chr. Hansen's dedicated team of professionals and scientists continue to revolutionize and standardize the production of microbials over a century later.
This segment of American Farmer will focus on Chr. Hansen Animal health, a division that includes the largest collection of microbial strains for probiotics and silage inoculants in the world.
"At Chr. Hansen we work to improve food and health and we are proud to offer farmers natural and safe probiotic solutions that enables them to keep the animals in their care healthy. Raising healthy animals, while reducing the use of antibiotics, is an essential element to sustainable food production."
"Chr. Hansen helps producers and farmers boost efficiency and profitability, while meeting all regulatory requirements for safety, stability and efficacy," said Robert Sikich, Senior Producer for the American Farmer series. "We are excited to educate the public on how microbials are helping to advance the industry."
About CHR Hansen:
Chr. Hansen is a global bioscience company that develops natural ingredient solutions for the food, nutritional, pharmaceutical and agricultural industries. The products include cultures, enzymes, probiotics and natural colors, and all solutions are based on strong research and development competencies coupled with significant technology investments. Revenue in the 2015/16 financial year was EUR 949 million. It has more than 3000 dedicated employees in over 30 countries and main production facilities in Denmark, France, USA and Germany. Chr. Hansen was founded in 1874 and is listed on NASDAQ OMX Copenhagen. For more information, visit: http://www.chr-hansen.com/en/animal-health.
About American Farmer:
American Farmer is a breakthrough program on a mission to showcase the latest advancements in agriculture and farming. From seed to harvest, livestock and more, our producers have traveled the country covering the people, places and issues impacting all areas of farm country.
American Farmer airs Tuesdays at 8:30am ET on RFD-TV. Check your local listing for show times.
For more information visit http://www.AmericanFarmerTV.com or contact Robert Sikich at (866) 496-4065 or via email at: info(at)AmericanFarmerTV(dot)com.