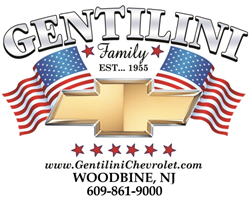 We invited Jalen because he's a (basketball) blocks leader in New Jersey.
WOODBINE, NJ (PRWEB) June 21, 2017
Connecting with and helping the community are some one of Gentilini Motors core values as one of the leading used car dealerships in Cape May County, and the family owned and operated New Jersey dealer will do so this summer by sponsoring a local high school athlete and multiple golf outings in the area.
Gentilini Motors will serve as the sponsor for Middle Township High School senior basketball player Jalen Hudgins, who will compete in an international tournament in Australia this summer. Hudgins will represent New Jersey in the Down Under Hoops Classic Championship. In his fourth season with the Panthers, Hudgins averaged 6.5 points, seven rebounds and three blocks per game. He will be part of one of eight teams that will represent the United States in the tournament.
"We invited Jalen because he's a (basketball) blocks leader in New Jersey," Taleas Marble, a spokeswoman for Down Under Sports, told The Gazette of Middle Township in April.
Hudgins will be guaranteed at least five games down under and then the event will switch to a tournament format, where his team can play all the way up to the championship game.
Gentilini Motors is also among the sponsors for two golf outings at the end of June. The dealership will be a tee sponsor for the Avalon Lions Golf Tournament June 25, as well as the bronze sponsor for the Fred Baker Memorial Golf Tournament June 26.
The Avalon Lions Golf Tournament will be held at the Avalon Golf Club at the Cape May Courthouse. The 20th and final Fred Baker Memorial Golf Tournament will take place at the White Oaks Country Club in Newfield, N.J.
Through supporting local athletes and athletics, Gentilini Motors hopes to further unite itself with the New Jersey community.
About: Gentilini Motors has been selling new and used cars to New Jersey residents since 1955. This family owned and operated dealer is known for its renowned customer service, winning Ford's Presidential Award for Superior Customer Service over 15 years in a row—an achievement less than ten dealers in the nation can claim. Gentilini's more recently opened GM dealership has also successfully implemented the dealer's unique approach of family-style customer service. Gentilini Motors is devoted to helping and serving customers to the best of our ability and believes that the cars we offer are the highest quality and ideal for your life's needs.