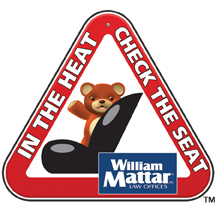 Unfortunately it's something we hear about on the news every year. Our goal is to raise awareness and try to prevent these tragedies. - William Mattar
Buffalo, NY (PRWEB) June 21, 2017
William Mattar, PC ushers in the official start of summer with their third annual William Mattar "In the Heat, Check the Seat" campaign with specially designed warning decals to create awareness and possibly save a life.
Each year, children (and pets) die every year from heat stroke after being left in hot vehicles. It seems impossible to comprehend how a parent or caregiver could forget that their child is with them. When this campaign was originally created in 2015, research showed that all across the nation, this tragic scenario can happen to the most loving of parents. Often times, a parent not used to dropping their child at daycare may head out on the road and through many distractions and stresses on their minds, may arrive at their final destination forgetting that they were to make an additional stop. Other tragedies occur in situations where children may be playing in a vehicle and lock themselves in the car or trunk without the parents knowing that is where they are.
On a 78-degree day, the temperature inside a parked car can rise as high as 100 and 120 degrees in only minutes, and on a 90-degree day, the interior temperature of a vehicle can reach as high as 160 degrees in less than 10 minutes. Summer temperatures can exceed well over 90 degrees on some days, as well. A child or animal left in a car under these conditions for even minutes can lead to respiratory distress and potential death from hyperthermia.
Through radio, television and social media, caregivers are encouraged to request a free window decal at williammattar.com that can be placed inside the car where it will be noticed when exiting. In less than a week, the 'In the Heat, Check the Seat' campaign created by William Mattar received hundreds upon hundreds of decal requests from all over the country, many sending along messages that they want to join in helping spread the word and keep children safe.
About William Mattar
William Mattar Law Offices have represented car accident injury cases since 1990. The firm is actively involved in community events and has established a number of programs and initiatives such as the Buckle Your Belt Campaign, the Carbon Monoxide Detector Giveaway and Pencils 4 Schools Campaign. Learn more about the firm's community involvement, and how you can participate, by visiting http://www.WilliamMattar.com.