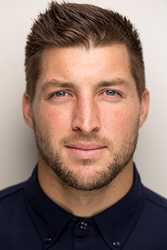 The money raised through the benefit dinner impacts students' lives in major ways; many simply could not be here without it.
Henderson, Tennessee (PRWEB) June 20, 2017
Tim Tebow, professional baseball and football icon, will speak at the Freed-Hardeman University Benefit Dinner Friday night, Dec. 1, 2017. Last year the annual event raised almost $1.7 million for student scholarships at FHU.
FHU President David Shannon talked about the event's importance, "The money raised through the benefit dinner impacts students' lives in major ways; many simply could not be here without it. Tim Tebow's sportsmanship, character and philanthropy have helped young people around the world, and his presence at this dinner will support Freed-Hardeman students. We look forward to seeing those who never miss this event and invite those who have not yet visited campus to join us for a great evening."
Tebow currently plays professional baseball for the New York Mets and is a college football analyst for the Southeastern Conference. Prior to his professional baseball career, Tebow left his mark on the NFL, playing for the Denver Broncos, New York Jets and New England Patriots. He is a two-time national champion, first-round NFL draft pick and Heisman trophy winner.
A contributor to ESPN Radio, ESPN's Heisman Trophy coverage and SportsCenter, Tebow was featured in the network's "Year of the Quarterback" series in 2011. He wrote "Through My Eyes," named the number one sports book and the bestselling religion book in 2011. In October 2016, he released "Shaken: Discovering Your True Identity in the Midst of Life's Storms." A passionate philanthropist, he created the Tim Tebow Foundation in 2010; the organization's mission is "to bring faith, hope and love to those needing a brighter day in their darkest hour of need."
During the past 53 years, speakers such as Dr. Ben Carson, Condoleezza Rice, President George W. Bush and Peyton Manning have headlined this event, which has brought in more than $28 million and helped thousands of students realize their dream of attending Freed-Hardeman.
Sponsorships begin at $600, and individual tickets may be purchased for $150. To learn more about purchasing tickets or becoming a sponsor, individuals may visit http://fhu.edu/tebow. Forever Communications is the premier media sponsor for the event.
The mission of Freed-Hardeman University is to help students develop their God-given talents for His glory by empowering them with an education that integrates Christian faith, scholarship and service. With locations in Henderson, Memphis and Dickson, FHU offers bachelor's, master's, specialist's and doctoral degrees. More information is available at http://www.fhu.edu.