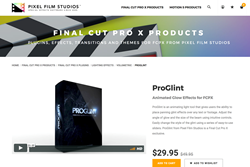 ProGlint is a new tool that FCPX Editors can use to create a glow in the light areas of the footage,
Aliso Viejo, Ca (PRWEB) June 20, 2017
ProGlint is an animating light tool that gives users the ability to place panning glint effects over any text or footage. Adjust the angle of glow and the size of the beam using intuitive controls. Easily change the style of the glint using a series of easy-to-use sliders. ProGlint from Pixel Film Studios is a Final Cut Pro X exclusive.
ProGlint can be placed onto any footage or text to create a beautiful animated glow in the light areas of the footage. For best results, place ProGlint onto darkly lit shots with visible highlights. The effect works great on light footage as well and can be used to create realistic lighting.
The on-screen controls in ProGlint allow users to change the angle of the effect with ease. Just rotate the arrow to any desired position and enjoy. Users also have access to a light ray control puck that can be placed anywhere once the Light Rays control is checked on. Then, make adjustments to the size and feather of the mask to finalize.
Easily change the look of the glint using a series of innovative controls. ProGlint's intuitive sliders and dials include controls for speed, brightness, color, prism, streaks, the softness of the glow and many more. Getting the perfect look is easy using ProGlint.
ProGlint is a an effect designed exclusively for Final Cut Pro X. To use, find ProGlint in the Effects Browser within Final Cut Pro X. Then, drag the effect onto any personal media or text in the FCPX timeline. Finally, adjust the effect using controls in the Inspector window.
Established in 2006, Aliso Viejo, California-based Pixel Film Studios is an innovative developer of visual effects tools for the post-production and broadcast community. Their products are integrated with popular non-linear editing and compositing products from Apple FCPX. Apple, the Apple logo, Mac OS X, and Macintosh are registered trademarks of Apple Inc. in the U.S. and/or other countries. All other trademarks and trade names are the property of their respective owners.