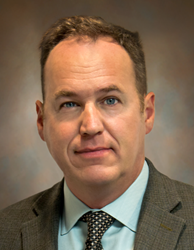 Indianapolis, IN (PRWEB) June 22, 2017
Lochmueller Group, Inc. is proud to welcome Steve Fleming, PE as the company's new Vice President of Transportation and Director of Major Projects. He will be responsible for managing major transportation projects across the Midwest from our Indianapolis office. "While Lochmueller Group already enjoys a strong corps of transportation designers with big project experience, Steve adds experience and expertise at a whole new level" said Lochmueller Group president and CEO, Mike Hinton. "His nationwide and even international involvement with designing and managing marquis transportation projects represents a great opportunity for our company to expand our transportation design practice and to extend our geographic coverage."
Steve has 29 years of experience managing over $1 billion of completed highway construction projects in both urban and rural environments across the US and internationally. Recently, he was the project manager for the rehabilitation of two miles of I-275 in Hamilton County Ohio that included rehabilitation of the Combs Hehl Bridge over the Ohio River. He was the program manager for US 31 in Hamilton County, Indiana, a $487 million reconstruction and upgrade of 12 miles of from Arterial Boulevard to freeway standards. And, he was the overall project manager for the I-70 Fast Track in Indianapolis, a $170 million relocation of four miles of I-70 adjacent to the Airport.
Steve said, "Since moving to the Midwest in 2002, I have always been impressed with Lochmueller Group's strong reputation for envisioning significant transportation planning projects. I am excited by this opportunity to help steer the direction and growth of their Transportation practice. The existing talent within the organization makes me realize how poised this firm is to lead major final design projects throughout the Midwest."
Steve holds a BS degree in Civil Engineering from the New York University, formerly known as Polytechnic University, New York, and is a registered Professional Engineer. His professional affiliations include the American Society of Highway Engineers, WTS for Advancing Women in Transportation, and the Institute of Transportation Engineers.
About Lochmueller Group
Initially founded as an infrastructure planning firm in 1980, today Lochmueller Group, Inc. serves clients nationwide from eight offices across the Midwest. With more than 165 employees, Lochgroup provides its clients a comprehensive range of services for all of their planning, engineering and environmental needs.