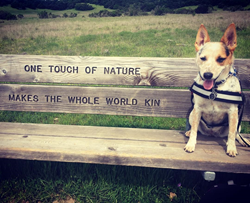 To kick off any Santa Rosa vacation, families should stop at the Visit California Welcome Center in Historic Railroad Square to pick up flyers and deals on local family attractions.
Santa Rosa, Calif. (PRWEB) June 27, 2017
Visit Santa Rosa, tourism bureau for Sonoma County's happening hub, welcomes the summer season and vacationers with a host of new and returning activities the whole family can enjoy. Santa Rosa features a range of family-friendly hotels and several that also welcome pups. Here are 10 ways to celebrate summer with the whole family:
For fun-loving families:
Visit California Welcome Center (Ongoing) - To kick off any Santa Rosa vacation, families should stop at the Visit California Welcome Center in Historic Railroad Square to pick up flyers and deals on local family attractions. While the grownups chat with knowledgeable staff, kids can enjoy the center's train exhibition, which offers a great interactive introduction to what Santa Rosa was like more than 100 years ago and features a working train set. The center has just updated their list of pet-friendly businesses for 2017, and visitors can request a copy. http://www.visitsantarosa.com/welcome-center
Wednesday Night Market (weekly through August 16) - Downtown Santa Rosa's newly-renovated Courthouse Square breathes new life into the city's long-running Wednesday Night Market. The city's biggest street fair features the highest quality artisans, farmers, and craftsmen, along with live music and a kids area. http://www.wednesdaynightmarket.org/
Free Movies on the Green (July 22, August 26) - Sonoma State University's Green Music Center gives family movie nights an upgrade with two nights of free double features! On July 22, showings include Moana and The Little Mermaid. On August 26, it's Beauty and The Beast night, featuring both the animated classic and the 2017 live action film. Movie showings begin at 5:00 p.m. http://gmc.sonoma.edu/Summer2017
Sonoma County Fair (August 3 - August 13) - One of the state's most popular fairs returns for 11 days of family fun! Now in its 81st year, all ages will be entertained by educational agricultural exhibits, livestock shows, carnival rides, NorCal Brewfest, and horse races! http://www.sonomacountyfair.com/
You're a Good Man Charlie Brown! at 6th Street Playhouse (August 18 - September 17) - To honor the 50th anniversary of the Broadway musical based on the Peanuts, the 6th Street Playhouse and Charles Schulz Museum are teaming up for a hometown revival. This show kicks off the playhouse's 2017-2018 season. http://www.6thstreetplayhouse.com/new-201718/gk-hardt-theatre/youre-a-good-man-charlie-brown/
23rd Annual Seafood Bodega Seafood Art & Wine Festival (August 26 - 27) - This beloved food and wine festival on the coast returns with more kid-focused activities than ever. Adults will enjoy live entertainment, fine art, local craft beverages and the freshest seafood. The Entertainment Stage will feature performances by Captain Jack Spareribs, Merry Mary and gymnasts. Stewards of the Coast & Redwoods will bring out their new Interactive Environmental Exhibit Van to educate and entertain. The Painting Garden welcomes children to paint their own ceramics. Kid-friendly food options will also be available. http://www.bodegaseafoodfestival.com/
For people and pups:
Concerts Under the Stars at Montgomery Village (June 1- October 5) - Parents, pups, and kids can rock out to tribute and cover bands at Montgomery Village every Thursday, starting at 5:30 p.m. Food available from Lucky's outdoor grill. Wine and beer available from Korbel, Rodney Strong, Ninkasi IPA, and more. All beverage proceeds benefit local nonprofits. https://www.mvshops.com/events/categories/concerts-under-the-stars/
Spring Lake Water Bark (September 9-10, 17, 23-24, 30-October 1) - Through Labor Day, Spring Lake Regional Park's swimming lagoon features a floating playground during summer for kids ages 6+, but throughout September, it becomes a leash-free water wonderland for dogs. Beyond dog-paddling, tennis balls and dog discs will be on hand. Entry fee raises money for the Sonoma County Regional Parks Foundation. Dog photos by Julie Vader are available for purchase. http://www.sonomacountyparks.org
Find Snoopy and his friends around town - Fido can't come inside the Charles M. Schulz Museum to meet Snoopy, but he can join the family to sniff out more than 70 Peanuts statues in and around Santa Rosa, decorated by local artists to pay tribute to the famed comic. Families can follow this guide to find Snoopy and his friends: http://www.sonomacounty.com/sites/default/master/files/pdf/PeanutsStatuesAroundTown-LowRes_2-27-15.pdf
Picnic and Tour at a Family and Pet-Friendly Winery - Adult visitors are welcome to bring children and leashed dogs to several of Santa Rosa's family-friendly wineries. Top experiences including the culinary and flower gardens at Martin Ray Winery, the lavender fields at Matanzas Creek Winery, or take the self-guided sustainability-focused Vineyard Adventures walks offered at St. Francis Winery, among others.
About Visit Santa Rosa
Located 55 miles north of San Francisco, Santa Rosa, California is the happening hub for all there is to see, do, eat, drink, hike, bike and explore in Sonoma County. Santa Rosa is the biggest city in Sonoma Wine Country, but the vibe is as welcoming as a small town. Central to Sonoma County's 400+ wineries, Santa Rosa is also just 30 minutes from the stunning coast and even closer to California's majestic redwood trees. Home to an impressive array of world-class restaurants and breweries, some of the best bicycling routes in the U.S., the Charles M. Schulz Museum, Luther Burbank Center for the Arts – and so much more – Santa Rosa has a little something for everyone.
Visit Santa Rosa is a partnership with the Santa Rosa Metro Chamber, providing assistance to visitors and groups seeking information about lodging, dining and entertainment opportunities in Santa Rosa. It also operates an Official California Welcome Center and helps to bring major events to Santa Rosa, such as the Amgen Tour of California. For more information, call (800) 404-7673 or (707) 577-8674 or visitsantarosa.com.
###