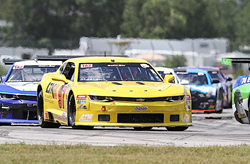 These are professional drivers that have amazing skills and cars that can really get around the track in a hurry.
Brainerd, Minnesota (PRWEB) June 22, 2017
Race fans who like the sights and sounds of American Muscle flying around a road course in wheel-to-wheel racing will love the pair of 100-mile feature races that Brainerd International Raceway (BIR) is hosting on July 2. It's the return of the Trans Am Series presented by Pirelli.
More than 40 Mustangs, Corvettes, Camaros, Challengers and more — a massive dose of pure Americana, with just a touch of nostalgia – are expected to compete in the Trans Am Series' event finale on BIR's 2.5-mile Competition Road Course. It's a nod to the early days of the Trans Am Series at BIR, which dates back to 1969.
The two Trans Am Series races are part of BIR's 31st Annual PleasureLand RV Show & Go, set for June 30-July 2. In addition to the Trans Am Series, the event includes the Sports Car Club of America (SCCA) on the road course, the second leg of the three-race Muscle Car Series on the drag strip, fireworks, a Classic Car Show and live music.
This is the third year that the Trans Am Series will be the Show & Go's finale. The first 100-mile, 40-lap race is the Ryan Companies Muscle Car Challenge, which starts at 11 a.m. and features the series' TA2 class, which put on an incredible show the last two years. Duluth's Tommy Archer finished second both years in great non-stop action. Gar Robinson took home the checked flag last year after being chased by a seven-car pack during the final 20 laps.
At 2:30 p.m., the Ryan Companies Independence Day Classic begins, with another 100-mile, 40-lap showdown. The TA, TA3 and TA4 classes will be on the track at the same time, but all eyes will be on the much faster TA cars. Last year, Paul Fix sat in second place behind Cliff Ebben for 37 laps, finally passing him on the final lap when Ebben's car started smoking.
Fans can expect similar action this year, which includes practice sessions at 9 and 11:30 a.m. on Saturday, and then 20-minute qualifying sessions that start at 2:30 p.m.
"This is a great chance for fans to see some world-class road racing," said BIR Owner Jed Copham, who will be racing in the TA class again this year. "These are professional drivers that have amazing skills and cars that can really get around the track in a hurry. We have bleachers set up on the best places to watch all the action, and fans can move around the track to watch from different vantage points, so it's a lot of fun for everyone."
For those who can't watch the races in person, or want to watch them on TV after the fact, both races will be televised on CBS Sports Network. The Ryan Companies Independence Day Classic will be televised at 11 a.m. on July 22. The Ryan Companies Muscle Car Challenge will be on at 11 a.m. on Aug. 5.
When the Trans Am Series isn't on the track, the SCCA will be, with regional drivers competing in several different classes. Practice and qualifying sessions are on Saturday and then 12-lap races are Sunday.
Over on BIR's drag strip, the Muscle Car Series will be providing three days of non-stop drag racing by cars that showcase huge horsepower and incredible speeds. The fastest cars in the top classes are now well over 200 mph and closing in on the 5-second mark. Time trials and qualifying are Friday and Saturday, and elimination rounds are Sunday.
One of the drag racers to watch is Kevin Sand, who hasn't lost a race in the series since July 3. He's won 26 elimination-round match-ups and has ended up in the Winner's Circle six times in the last two series events.
For fans, the Show & Go includes plenty of extras off the track as well. Saturday's schedule includes a Classic Car Show, a fireworks display and live music by Gel.
"The Show & Go is a great family experience because there's so much going on," Copham said. "It's a great way to kick off the holiday week."
Daily admission is $25, and kids 12 and under are free. Tickets are available online, by phone or at the front gate. Parking is free, as is rustic camping with a multi-day ticket. Visit http://www.BrainerdRaceway.com for more information.