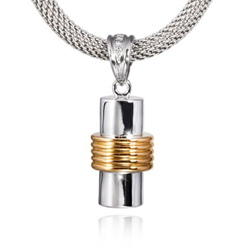 Over the past two years, we've noticed a remarkable rise in customers purchasing cremation jewelry. This surge in sales has compelled us to offer a new, exclusive collection.
St. Paul, MN (PRWEB) June 21, 2017
Believe it or not, one segment of the retail accessory market that's quickly gaining popularity is Cremation Jewelry. How weird is that?
As it turns out, apparently not that weird. Or bizarre. Or morbid, considering the dramatic increase in consumers purchasing necklaces, bracelets and pendants that contain a secret compartment for a bit of ash, a lock of hair or threads from a favorite piece of clothing belonging to a deceased loved one. While death and baubles would seem unlikely bedmates, this intriguing development in the jewelry industry might have Hermes or Gaultier wondering: "Why didn't I think of that?" - and maybe now they have.
But even so far as specialty markets go, the dramatic upward trend in jewelry for ashes is having a considerable impact in the cremation memorial retail business. The number of people choosing cremation has surpassed that of burial and continues to grow. This trend along with the customization of memorial rituals, jewelry for ashes offers a uniquely poignant way to keep the memory of a loved one close. And, unlike other jewelry lines, customers tend to buy multiples so that they can "share the ashes" with other family members.
If you're wondering if this is "fake news," a quick search engine fact check reveals just how rapidly this segment of the jewelry market is growing. According to Google, the average monthly search for cremation jewelry rose from 18,000 searches in 2014 to 40,500 in 2016 - an increase of 125% percent. A remarkable growth spurt which caught the attention of OneWorld Memorials, a leading online retailer of bereavement products including cremation urns, memorial keepsakes and jewelry for ashes.
"Comparing the past two years, we've clocked an astonishing 850% rise in the purchase of cremation jewelry items," says Ira Woods, president of OneWorld Memorials. "We've always worked with excellent suppliers of urn jewelry, but the recent surge in sales compelled us to up the ante in this category by offering a new, exclusive collection that represents superior quality at an affordable price. We find that the customers who buy cremation jewelry experience great satisfaction having their deceased loved ones memorialized and so close. It's an important purchase for them."
The new line of cremation accessories is made with European expertise and precision equipment, an important distinction because of the complexities inherent in designing urn jewelry. Each piece, whether it's a necklace, bracelet, or pendant, has a small cap or screw which must be removed to put ashes or other mementos into the hidden urn. And, there needs to be sufficient space inside to contain the memento, which can be anything from ashes to eyelashes to the petals of a dried flower- whatever helps someone feel they are connected to a loved one wherever they go.
The 33-piece collection draws from both modern and traditional cremation jewelry, such as variations on heart, cylinder and religious themes. For example, a beautiful heart themed piece is the "In My Heart," pendant for ashes, retailing for $179.95, with a heart at its center encircled by rhinestones. Six pet themed versions start at $149.95, including the "Paw Prints Cremation Pendant" with a sterling silver orb adorned with small bronzed paw prints.
The brilliant sterling silver used in the new collection makes all the pieces durable, rust free and strikingly attractive, while maintaining an affordable price range that most customers would hope to find with designer jewelry, for example, something you might find at Tiffany's. That is, of course, if they were in the business of selling cremation jewelry, which fortunately you can find at the OneWorld Memorial website - including this new, exclusive collection.
About OneWorld Memorials
OneWorld Memorials provides quality cremation urns, cremation jewelry, biodegradable urns, condolence gifts, and related memorial products. Visit http://www.oneworldmemorials.com. The new jewelry collection can be viewed at Keep a Loved One Close.