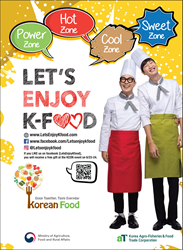 Newark, NJ (PRWEB) June 21, 2017
K-Food has grown in popularity exponentially, especially with young generation, and the festival is expected to draw a huge crowd. Gochujang, Korean hot paper paste, started getting attention and expend to hot & spicy food. Also Korean snacks and ginseng products are getting popular. There will be six Food Zones to entice concert goers to round up their total Korean cultural immersion experience:

HOT Zone for those fond of Korean hot and spicy food, ramen, kimchi, gochujang
COOL Zone to enjoy beverages such as aloe drink, citron tea, coffee
POWER Zone to get some energy boost from red ginseng drink to red vinegar beverages
SWEET Zone to indulge in Korean candies and snacks
EVENT Zone featuring chef cooking demo and social media activities like "Live Broadcast – What's going on here" and "Self star Instargram awards – Find "Let's enjoy K-Food" stickers, take selfy with it and upload".
INFORMATION Zone for inquiries as well as photo ops with Korean TV star figures
On June 24, 11:30am -12:30pm, there will also be a featured event "Why Do You Like K-Food" extravaganza at convention stage, covering panel discussion with K-pop star, chef, blogger and the growing number of K-food lovers.
"K-Food's broadening appeal has allowed especially young generation social networking to be staged globally. The two-day fun food festival is not to be missed" remarked Kwangjin Kim, President of aT Center, New York. For more information, please visit http://www.LetsEnjoyKfood.com.
Contact: aT Center New York
Youngji Suk, Director
516-829-1633