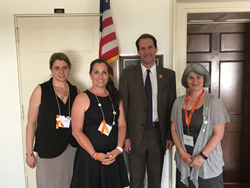 Dr. Richlin, a partner at Fairfield County's leading fertility practice, says: "About 50 – 60 percent of our patients have coverage provided by Connecticut's State Mandate, which makes fertility treatments like IVF more accessible and affordable."
Norwalk, CT (PRWEB) June 21, 2017
Reproductive Medicine Associates of Connecticut (RMACT) joined the American Society of Reproductive Medicine (ASRM) and RESOLVE: The National Infertility Association at Advocacy Day in Washington, DC on May 18. RMACT's Surgical Director Dr. Spencer Richlin and two of its Patient Advocates, Carrie Van Steen and Lisa Rosenthal, met with delegates from all seven of Connecticut's representatives' offices, including Senator Christopher Murphy, Representative James Himes and Representative Rosa DeLauro.
Based on direction from RESOLVE and ASRM, RMACT's Advocacy Team delivered three messages on Capitol Hill: the importance of access to infertility care, the need for lasting in vitro fertilization (IVF) coverage for wounded veterans and the understanding that infertility treatment is pro-family. This last message is intended to directly contrast personhood laws; while Connecticut does not have personhood laws, it is important to educate legislators and to discourage other states from implementing personhood laws that would directly affect the ability to use fertility protocols to build families.
Along with these messages, RMACT's Advocacy Team delivered impassioned letters on behalf of RMACT patients, friends and family. RMACT gathered more letters than any other practice nationwide and because of these efforts Connecticut had more letters than any other state. The letters acted as an important vehicle for patients who wanted to add their voices but were not able to attend the activities in Washington, DC. RMACT collected over 300 letters during the practice's letter campaign kick off event alone.
"Although Connecticut has comparatively progressive policy, it is important for our representatives to understand how and why this positively affects residents," says Dr. Richlin, a partner at Fairfield County's leading fertility practice. "About 50 – 60 percent of our patients have coverage provided by Connecticut's State Mandate, which makes fertility treatments like IVF more accessible and affordable."
RMACT considers patient advocacy part of its responsibility. In addition to annually participating in Advocacy Day, RMACT spreads important messages about infertility, including its prevalence and how patients can find treatment. Dr. Joshua M. Hurwitz recently met with representatives to explain the urgent need of fertility preservation for cancer patients. Earlier this month, there was unanimous and bipartisan support in the Connecticut state legislature Bill 7124, which requires health insurance providers in the state to provide fertility preservation treatments for patients diagnosed with cancer starting in January 2018 .
"Fertility care is pro-family, it enables every person the opportunity to have a family," said Lisa Rosenthal, Connecticut State Team Captain for Advocacy Day. "This is a powerful message, and one with a strong voice behind it as ASRM and RESOLVE joined forces for the first time this year. RMACT was grateful to have the opportunity to represent our patients, our RMACT team members and our state."
About Reproductive Medicine Associates of Connecticut (RMACT)
RMACT specializes in the treatment of infertility, including assisted reproductive technologies (ART) such as intrauterine insemination (IUI), in-vitro fertilization (IVF), and Pre-implantation Genetic Screening (PGS). RMACT, Fairfield County's largest fertility clinic and egg donation center, is one of 11 leading In Vitro Fertilization (IVF) centers nationwide chosen by In Vitro Sciences to participate in its Centers of Excellence program. RMACT has offices in Norwalk, Danbury, Stamford and Trumbull, and an affiliate office now in Poughkeepsie, NY. RMACT also offers infertility treatment financing and support services, such as nutrition counseling, individual and couples psychological counseling, acupuncture and yoga, through RMACT's Integrated Fertility and Wellness Center.
The RMACT team includes lead physicians Drs. Mark P. Leondires, Spencer S. Richlin and Joshua M. Hurwitz, as well as fertility specialists Drs. Cynthia M. Murdock, Shaun C. Williams and Ilana B. Ressler. All six physicians are Board-Certified Reproductive Endocrinologists and are members of the American Society for Reproductive Medicine (ASRM). Five of the doctors are Castle Connolly "Top Doctors" and members of the Society for Assisted Reproductive Technology (SART), the Fairfield County and Connecticut Medical Societies. RMACT's IVF laboratory is accredited by the College of American Pathologists (CAP), and CLIA; other accreditations include the Accreditation Association for Ambulatory Health Care (AAAHC) and the American Institute for Ultrasound in Medicine (AIUM). For more information visit http://www.RMACT.com or find us on Facebook.