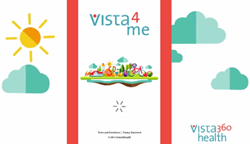 If Apple is now really thinking about making iPhone into a one-stop shop for all medical record they are simply behind and it's no longer a big deal
Austin, TX (PRWEB) June 22, 2017
On June 14th 2017, Christina Farr, reporter for CNBC news rolled out that "Apple is quietly working on turning its iPhone into a one-stop shop for all medical info". She further referenced a statement by Farzad Mostashari, former National Coordinator of Health IT for the Department of Health and Human Services who said, "If Apple is serious about this, it would be a big f---ing deal".
However, it's not "a big f---ing deal". EIXSYS® (pronounced "x-sis"), an Austin, Texas-based healthcare IT firm, in collaboration with Austin-born HMO Vista360health, are making big waves in their rise as leaders in the healthcare industry. Last month Vista360health rolled out their Vista4me mobile app for both iPhone and Android users (see the video). This exclusive, member-based app developed by EIXSYS® is more than a mere mobile app – it promises a peek inside the full spectrum of healthcare delivery. Examples of the data the Vista4Me app can share and display are current Personal Health Record including real-time lab results, a listing of current prescription medications (which all can be securely emailed), quick access to Vista360health's 24/7 telemedicine program and the members' PCP. As well as, deductible and out-of-pocket cost information, complete searchable drug formulary and much more are available.
"If Apple is now really thinking about making iPhone into a one-stop shop for all medical record they are simply behind and it's no longer a big deal" says Amin Salahuddin, President & CEO of EIXSYS®. Mr. Salahuddin envisions EIXSYS® as an innovator in the healthcare industry and has helped its clients by developing cutting-edge software, lower operating costs and achieve true data interoperability.