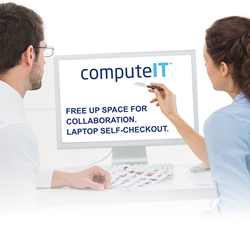 . Our self-service and app solutions support our vision of providing patron interaction beyond the physical walls of the library," said Marvin Crisp, President of D-Tech International.
Chicago, IL (PRWEB) June 22, 2017
D-Tech International is pleased to announce that the Company will be participating in the American Library Show in Chicago – June 23-26, 2017. D-Tech will be presenting its innovative self-service solutions including new features of appIT™, a library app developed exclusively for patrons to use on mobile devices; the Jet electromagnetic (EM) self-service kiosk; computeIT™ laptop loan; and holdIT™ remote location "holds" pick-up.
appIT™ is the first app of its kind in the library market and has been designed and developed by D-Tech. Utilizing either barcode or RFID technology, D-Tech has developed the library app to perform multiple functions that would have been previously performed at the physical location. These features include checkout of items, checking of account status, account payments, renew items, check library locations and hours of operation, chat with a librarian and more. D-Tech will be introducing new developments for its app including: an intuitive, easy-to-use interface, new tablet version app self-service kiosk, and staff walk-around mobile tablet with Meet/Greet/Help functionality. appIT™ can be used to engage and communicate with patrons through advertising space and patron messaging.
The Jet EM Kiosk is part of the ServeIT product line. The product is an option for those libraries that do not wish to migrate to RFID at this time. The kiosk works with D-Tech's latest i16 software and will also work with a library's existing EM security solution. There's no need to retag, and the system will work with 3M Tattle Tape™ security strips. This cost-effective solution allows libraries to update their self-service kiosks and incorporate the latest in software. The kiosk comes in a variety of styles, is easy to use for patrons and has low, ongoing maintenance costs. The solution can also be easily upgraded to RFID at a later time when the library is ready. The Jet EM self-serve kiosk includes the latest payment options, cash, card and contactless Apple Pay. Novelist is also an option.
computeIT™ is a multi-bay, modular kiosk locker system designed to safely store, charge and dispense laptops, iPads, and MacBooks. Users gain access to the computer assets through an easy to use checkout touch screen interface. With its steel chassis and doors and temperature-controlled environment, computeIT is an extremely secure, centralized system for dispensing and managing computer assets. With the installation of the computeIT system, libraries are able to eliminate many of the desktop computers and related costs of the monitoring software. Libraries can free up space and offer more open environments for patron interaction and project collaboration.
holdIT™ is an automated self-service "holds" kiosk that facilitates extended library hours for patrons. A self-service holds pick-up point can be positioned in either internal or external locations. The holdIT automated self-service kiosk allows library staff to remotely load lockers with hold items with the loan application. The items are scanned in the application. holdIT™ allocates a locker and prints a receipt with a barcode. The receipt will indicate the items and locker number. Once a bin is full of items ready to be loaded into the holdIT, the staff member scans the barcode on the receipt that is attached to the reserved item and it will automatically unlock the correct locker, place the item in and close the door. The user simply scans his user card and the screen will display the items. The user accepts and the locker is opened and the items are issued.
"We are focused on staying in tune with our library customers and patrons and asking the right questions: 'What is the library of today?' 'What does it provide to the communities it serves?' 'How does it remain relevant and a destination of choice in the minds of patrons?' From our viewpoint, libraries will need to provide services and information the way consumers and in this case patrons want to be receive information and be served with self-service and online options. We are committed to developing and enhancing products that streamline processes inside the library and bring library services to patrons through online and our app developed exclusively for libraries. Our self-service and app solutions support our vision of providing patron interaction beyond the physical walls of the library," said Marvin Crisp, President of D-Tech International.
About D-Tech International:
D-Tech International designs, develops and manufactures high-performance RFID products and library security systems. The Company provides installation and customer service for its full range of products. Its technologies include EM, RF, RFIQ and RFID used for self-service, stock control and management, library security, people counting and 24-hour vending.
Stop by booth #4043 to find out about D-Tech's Show Special.