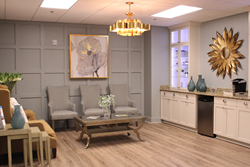 Your partner on your journey to health.
Marietta, Georgia (PRWEB) June 28, 2017
The new center will offer specialized testing, comprehensive lab work, and examinations that are designed to keep people feeling energetic and healthy as they age.
Continuing efforts to help clients manage stress, control the aging process, and reduce risk of disease, yoga and meditation classes will be offered on a weekly basis at the new clinic. The promotion of mind-body wellness teaches patients to better cope with stress by shifting awareness to the sensations and thoughts that accompany a pose or breath. Integrating yoga and meditation classes into a day to day routine reduces stress improves sense of well-being and decreases disease. New partners Laura Currie, Melanie Storrusten and Lena Franklin will head up the stress management portion of the new facility.
Leading the group is Dr. Lynn Flowers, MD. "We do thorough research with the patient to really understand and develop the appropriate approach for them considering their physiology and biochemistry, as well as lifestyle and environmental influences. This is a proactive approach to managing health, rather than waiting until someone notices symptoms," Flowers explains. Research shows this synergistic whole-life approach, commonly referred to as functional medicine, helps individuals restore and maintain optimal health so they feel better, live longer, and help prevent disease.
"We have learned the importance of integrating services into the patient care to improve outcomes. That is why we are joining forces and adding services in our new facility," says Misty Croft RN, BSN Director. New services include in-office fitness evaluations and training, new I.V. nutrition protocols, facial rejuvenation, CoolSculpting, yoga and meditation classes and advanced genetic testing. These services give patients the comprehensive care you need to get and stay healthy.
New partner and 8-time Mr. Olympia Lee Haney plays an integral role in the care of patients by developing fitness plans and individualized functional training designed to meet the specific needs of each individual. His expertise in the field of exercise science brings a wealth of knowledge to Flowers Medical Group patients. The functional training exercises improve overall strength, core stability, cardio-vascular health and flexibility. He provides in-office and in-home training for patients. "Most people understand that diet and exercise are critical to improving their health and feeling better. However what is less well known is that revolutionary medical treatments exist today that can play an enormous role in not only how they feel, but also in disease prevention," says Lee Haney.
"The goal of the expanded practice is to offer our patients services that enhance their health and wellness. At Flowers Medical Group, you will be able to heal your body from the inside-out," says Dr. Flowers. "Our new facility is designed to help you achieve health in all areas of your life." This new integrative health model blends personalized medicine and performance health so patients can stay healthy for a lifetime.
The location of the new facility is located at:
Flowers Medical Group, LLC
1950 Spectrum Circle, Suite 505A
Marietta, Georgia 30067
About Flowers Medical Group:
Flowers Medical Group opened in 2012 and continues to grow and expand to provide services to meet the needs of each patient, creating individualized care plans that include every aspect of health. Flowers Medical Group is the gateway to next-generation medical science, a comprehensive, evidenced-based approach to managing the aging process.
Aging is inevitable, but how you age is a choice.
Additional service offerings are found on the new website, http://www.flowersmedical.com, and free phone consultations are available by calling 678-303-4420