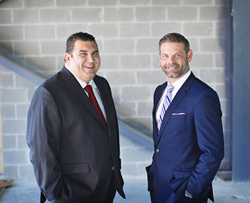 What sets Woodall Batchelor apart from other law firms is that we offer big-firm legal expertise with the responsiveness and personalized attention of a smaller practice,
The Woodlands, Texas (PRWEB) June 21, 2017
Dan Woodall and Charles Batchelor, leading Houston-area attorneys with strong reputations for successfully representing clients on insurance, business, real estate, construction and energy matters, today announced the formation of their new law firm, Woodall Batchelor PLLC.
Based in The Woodlands, Woodall Batchelor serves a wide spectrum of clients from individuals, entrepreneurs and small businesses to major corporations and international insurance syndicates. While the majority of the firm's business is in Texas, Woodall Batchelor routinely handles transactional and subrogation matters across the United States.
Prior to launching their firm, Woodall and Batchelor practiced law together at Gauntt, Koen, Binney & Kidd, LLP, where they represented a similar clientele.
With more than 40 years of combined experience, Woodall Batchelor's lawyers provide a full range of transactional and litigation services in multiple practice areas including:

Business law and contracts
Corporations, LLCs and partnerships
Real estate and construction
Insurance coverage, defense and subrogation
Labor and employment
Oil, gas and energy
The firm's comprehensive insurance practice includes the aggressive pursuit of large-loss subrogation cases for domestic and international insurers active in the Lloyd's of London insurance market.
"What sets us apart from other law firms is that we offer big-firm legal expertise with the responsiveness and personalized attention of a smaller practice," said Woodall. "We've spent decades helping just about every type of client with every type of legal issue – from family-owned, local companies that need us to review routine documents to some of the nation's largest corporations embroiled in disputes with millions of dollars on the line. As a result, we've acquired extensive knowledge and know-how which benefits every client because a partner always is directly involved in each engagement."
Additionally, Batchelor brings substantial background as in-house counsel for industry leaders so he understands first-hand the issues that clients face daily. While at RadioShack, Batchelor negotiated retail leases nationwide. For Texas-New Mexico Power and First Choice Power, he worked on multi-million dollar power supply and retail energy agreements for customers throughout the Lone Star State. He also was counsel at N3 Capital, among the largest developers for Starbucks Corporation in the Midwest. As construction and project manager for Blackard Developments, he oversaw the development of several mixed-used communities in North Dallas.
"Woodall Batchelor is my one-stop, go-to resource for our company's legal needs because of the firm's breadth of legal services, depth of relevant experience and consistent ability to get results that protect and advance our business," said Brian Parker, Director, RE/MAX The Woodlands & Spring.
Woodall's and Batchelor's other clients have included MS Amlin, AmTrust at Lloyds, White Oak Underwriting Ltd., GCube Underwriting Limited, Tokio Marine Kiln, Amica Mutual Insurance Company, Best Buy, TDIndustries, Inc., Roofing Supply, ES4 Corp., Choice Completions, Hand & Stone Massage Spa, and HPC Energy Services. The firm's lawyers also have negotiated agreements and leases with Chesapeake Energy, Pioneer Natural Resources, Occidental Petroleum Corporation, XTO Energy, Payless Shoes, Chase Bank and Chili's.
About Woodall Batchelor
Based in The Woodlands, Texas, Woodall Batchelor provides transactional and litigation services to individuals and businesses in the Houston area, throughout Texas and the United States. The firm offers specialized knowledge and a rich understanding of complex legal issues while at the same time providing responsive, one-on-one service with an emphasis on simplifying clients' lives. Along with a full range of business law services for companies of all sizes in diverse industries, Woodall Batchelor is renowned for expertise in insurance – particularly large-loss insurance subrogation, business, real estate, and construction as well as oil, gas and energy. For more information, please visit http://www.woodallbatchelor.com.
# # #