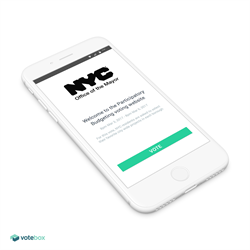 The voter's journey will become human friendly, beautiful and frictionless
(PRWEB) June 22, 2017
Votebox announces today the launch of its secure voting service.
Based in Paris and New York, the Votebox team is building a cutting edge Internet Voting solution designed to enable people to participate in the governance of their organizations in a secure, easy and auditable way.
Early clients of Votebox included Les Républicains, the largest political party in France, which used the software to put on its new name to a vote. Thanks to Votebox, the 300,000 party members voted from their smartphones.
Now that the beta version of the software has been used to cast more than 6 millions electronic ballots, the company is ready to expand and further develop its Blockchain audit system. Votebox's end-to-end encryption system addresses the needs of the private and public sectors. Popular use cases include shareholder votes, election of employee representatives, homeowner cooperatives governance votes and participatory budgeting initiatives.
Votebox is building tools and solutions that will expand the infrastructure for democracy in the 21st century. Although the cost reduction of the Internet access layer allows for more granular democratic mechanisms, nothing guarantees more transparent and open voting protocols. Votebox offers a way to vote online in an easy and secure way while providing stakeholders with innovative auditing technology.
About Votebox
Votebox started out of the frustration of voter disempowerment and was built with the idea that the voter's journey had to be human friendly, beautiful and frictionless.
Voting needed a reboot. As it stands, turnouts fall short even on issues we care about. Votebox changes all that. Designed for non-government and government voting, Votebox's system turns secure voting into a simple process.
https://votebox.co
For press and other inquiries about Votebox, please email hello(at)votebox(dot)co