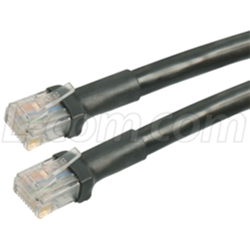 "With Cat6a, Cat6 and Cat5e available in shielded, unshielded, LSZH, high-flex and direct burial versions, these new lines are sure to exceed your outdoor cabling requirements, whatever they may be," said Dustin Guttadauro, Product Manager
NORTH ANDOVER, Mass. (PRWEB) June 22, 2017
L-com Global Connectivity, a preferred manufacturer of wired and wireless connectivity products, announced today that it has added several new families of outdoor cables for use in Industrial Ethernet, manufacturing, process industry, outdoor and direct burial applications.
This new cable family is comprised of five series of outdoor cables: Category 6a, Category 6a shielded, Category 6 shielded, Category 5e shielded and Category 5e shielded LSZH. All of these cables are designed to support Ethernet cable runs outside. They feature a polyethylene (PE) jacket that provides moisture and UV protection outdoors, with some series also boasting a CMX UL burn rating.
These outdoor rated cables feature 23 AWG or 24 AWG solid conductors and are EIA568 color-coded for compatibility with standard installations. Shielded versions feature an overall foil shield to protect against EMI/RFI interference. The low-smoke-zero-halogen (LSZH) series provides an added level of safety for applications where the combustive toxicity of PE may be hazardous. These cables can operate in temperatures ranging from -40°C to +75°C, depending on the cable type, and some are suitable for direct burial. All series are available off the shelf in 1, 3, 5, 10, 25, 50, 75 and 100 feet lengths. Custom lengths are available upon request.
"The addition of these outdoor cables gives L-com one of the most comprehensive portfolios of in stock outdoor and industrial Ethernet cables in the industry. With Cat6a, Cat6 and Cat5e available in shielded, unshielded, LSZH, high-flex and direct burial versions, these new lines are sure to exceed your outdoor cabling requirements, whatever they may be," said Dustin Guttadauro, Product Manager.
These new outdoor cables are in stock and available for immediate shipment.
For more information about this release, please contact:
Peter McNeil
L-com Global Connectivity
17792 Fitch
Irvine, CA
978-682-6936 x1174
About L-com Global Connectivity:
L-com Global Connectivity, a leading manufacturer of wired and wireless connectivity products, offers a wide range of solutions and unrivaled customer service for the electronics and data communications industries. The company's product portfolio includes cable assemblies, connectors, adapters, antennas, enclosures, surge protectors and more. L-com is headquartered in North Andover, Mass., is ISO 9001: 2008 certified and many of its products are UL® recognized. L-com is an Infinite Electronics company.