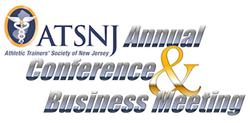 "I will not stand up here and make empty promises to you, but I will promise to work hard with the executive council to make things happen and listen to you as a membership." - Christina Emrich
Trenton, New Jersey (PRWEB) June 23, 2017
This year's ATSNJ Annual Conference took place on February 26th and 27th at the Double Tree by Hilton in Somerset, New Jersey. The conference went back to the two-day format and was the best attended, with a total of 204 certified and 86 student attendees. Continuing Education Credits (CEUs) were offered to those who attended the lectures and workshops offered in this year's program.
The conference started Sunday with an executive council meeting and then a strategic planning session with the executive council and ATSNJ individual committees. At 1:00pm, lectures began including two evidence based programs. Following lectures, the student quiz bowl took place, in which Jasmine Brown from Seton Hall took first place. Sunday night was also host to a social event for all conference attendees. There was a surprise guest; Mike Paladino, a magician for some fun entertainment. This social event proved to be a great way for athletic trainers from all over New Jersey to network and catch up with old friends and colleagues.
On Monday, the conference included one evidence based program and a Keynote address from Kevin Saum. Kevin is the creator of the Heads 'N Tales Podcast, which was started as Kevin's response to suffering a traumatic brain injury during a high school football game. Kevin interviews athletes who have overcome adversity as well as physicians, athletic trainers and other individuals who work so diligently to keep athletes safe. Kevin walked the audience through his survival of second impact syndrome and the challenges he faced during his recovery. Kevin's passion for sports safety was evident throughout his presentation. At the very end of the presentation, Kevin walked into the crowd, found the athletic trainer who he says saved his life and gave her a long hug. For more information on the Heads 'N Tales podcast, please visit http://www.headsntales.org/ or check them out on Facebook, Twitter and Instagram.
The business meeting on Monday started with now-Past President Eric Schwartz's State of the Society address. He stated that the society is in good standing and moving in the right direction. At the end of the business meeting, Eric stepped down as President to allow Christina Emrich to take over the Society. Kevin Briles is also taking on a new role within the ATSNJ as he is stepping in as President-Elect. John Furtado (Past President) left the executive council after 6 dedicated years and we cannot thank him enough for his time and commitment to the advancement of athletic training, both in New Jersey and across the country. Christina Emrich gave the closing remarks and ended with "I will not stand up here and make empty promises to you, but I will promise to work hard with the executive council to make things happen and listen to you as a membership."
Monday ended with the awards luncheon, which had 192 attendees. This was a great way to celebrate colleagues and future athletic trainers and a great end to a great conference. There were 7 award winners this year.
LaNiece Brown from Hillside High School was the winner of the Victor Recine High School Scholarship. LaNiece is a senior in high school and has served as an athletic training student aide for three and a half years. LaNiece has been accepted into 7 of the 8 schools she applied to, and will be attending Rowan University in the fall to pursue a degree in athletic training.
Nicole Pietrapertosa from Kean University was the winner of the Richard Malacrea College Scholarship. Nicole is a senior at Kean majoring in athletic training and minoring in psychology, with a 3.969 GPA. Nicole plans to further her education after finishing her undergraduate work.
Kelsey Hankins from William Paterson University was the winner of the Jack Weakly/D2 College Scholarship. Kelsey is a junior at William Paterson majoring in athletic training, with a 3.71 GPA. Kelsey plans on becoming an athletic trainer and intends to become and anatomy and physiology professor for athletic training students.
The Presidential Award was awarded to the Burlington County Athletic Trainers for their outstanding work in the field of athletic training and for their efforts in promoting the profession of athletic training. This group of athletic trainers exemplify teamwork and dedication. The have monthly meetings and even more frequent communication about the different issues at their respective schools. They have also taken the time to regulate paperwork for a seamless continuum of care for the athletes in Burlington County, New Jersey.
Dr. Vincent McInerney was awarded the Dr. Timothy Hosea Team Physician Award. Dr. McInerney has been licensed to practice medicine and surgery since 1979 and has presented numerous times, on top of being published. Dr. McInerney is involved as a team physician for many local school districts, as well as working with many local professional teams.
Lastly, there were two people inducted into the ATSNJ Hall of Fame; Eric Nussbaum from Colts Neck High School, and David Middlemas from Montclair State University.
Eric Nussbaum has been the athletic trainer at Colts Neck High School since 2008. In 2016, Eric was inducted into New Jersey Scholastic Coaches Association Hall of Fame. He is published in both books and scholarly periodicals. Eric has given back to his fellow athletic trainers and the profession of athletic training throughout his career by presenting at conferences and he is an active committee member and former executive council member for the ATSNJ.
David Middlemas has been a Professor and Graduate Coordinator for the Athletic Training Program since 2000 and has been the athletic trainer at Wayne Valley High School since 2009. He has been very active in promoting athletic training and has held many volunteer roles locally as well as nationally. David started the ATSNJ's Crisis Committee to help fellow athletic trainers who may be dealing with a crisis/tragedy. He is also a former executive council member for the ATSNJ. David is a published researcher and has presented many presentations for fellow athletic trainers.
The ATSNJ would like to thank all of those who attended this year's program and congratulate those who were honored at the awards luncheon. For more information on the ATSNJ, please visit us on the web at http://www.atsnj.org. You can also find them via social media on Facebook (ATSNJ's New Jersey's Sport Safety), Twitter (@NJSportSafety) and on Instagram (atsnj).