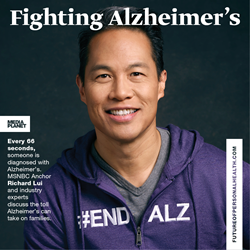 Alzheimer's is the sixth-leading cause of death in the United States
New York, NY (PRWEB) June 21, 2017
An estimated five million people in the United States have been diagnosed with Alzheimer's Disease. It is estimated that by the year 2050, 16 million people will be affected by the disease. Publishing in honor of Alzheimer's and Brain Awareness Month, this June's edition of "Fighting Alzheimer's" sparks a conversation about the future of Alzheimer's research and treatment while discussing the needs of caregivers across the country as we manage the exponential growth of the disease.
Alzheimer's is the sixth-leading cause of death in the United States. It is also one of the most mysterious diseases affecting Americans, and few if any advancements have been made to treat or cure the disease in the past couple of decades. However, there is hope. With innovative diagnostic tools and dozens of clinical trials underway, a cure is within reach — as long as we continue to put funding and resources into research. While we wait for a cure, we need to remember that, unlike most other deadly diseases, individuals can live with Alzheimer's for 20 years or longer after their diagnosis. This results in a greater need for qualified caregivers and continuous resources and support for them.
Richard Lui, MSNBC Journalist and Alzheimer's Association Celebrity Advocate, graces the cover of the campaign. Speaking directly to his role as a caregiver to his father and offering his advice to others, Richard says: "Find the fellow caregivers. Don't make it everything you talk about at work, but make it part of who you are, like you do your kids and your family. It's part of my life, and it's not all negative."
The print component of "Fighting Alzheimer's" is distributed within the Wednesday, June 21 regional circulation of USA Today, with a circulation of approximately 300,000 copies and an estimated readership of 900,000 within the New York, Los Angeles, Chicago, DC/Baltimore, Boston and South Florida markets. The digital component is distributed nationally, through a vast social media strategy and across a network of top news sites and partner outlets. To explore the digital version of the campaign, click here.
This edition of "Fighting Alzheimer's" was made possible with the support of GE Healthcare, Alzheimer's Association, Caregiver Action Network, UsAgainstAlzheimer's, Suven Life Sciences, United BioSource Corporation, Meridian Senior Living, Brightview Senior Living, FallCall Solutions, AFFIRMATIVhealth, UnitedHealthcare Group, Keep Memory Alive, Global Alzheimer's Platform Foundation, Alzheimer's Disease Resource Center and many more.
About Mediaplanet 
Mediaplanet specializes in the creation of content marketing campaigns covering a variety of industries. We tell meaningful stories that educate our audience and position our clients as solution providers. Our unique ability to pair the right leaders with the right readers, through the right platforms, has made Mediaplanet a global content marketing powerhouse. Our award-winning stories have won the hearts of countless readers while serving as a valuable platform for brands and their missions. Just call us storytellers with a purpose. Please visit http://www.mediaplanet.com for more on who we are and what we do.
Press Contact:
Jamie Bradley
Jamie.bradley(at)mediaplanet.com
646-922-1404