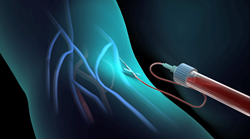 "Our hope is that better educated patients will lead to better doctor-patient communication and reduced readmissions." - Ron Collins, M.S. CEO Nucleus Medical Media, Inc.
ATLANTA, Ga. and BETHESDA, Md (PRWEB) June 21, 2017
ATLANTA, Ga. and BETHESDA, Md. – June 21, 2017 – Nucleus Medical Media, Inc. has partnered with GetWellNetwork to distribute its medical animations to hospitals and healthcare providers throughout the United States and the Middle East. GetWellNetwork will offer these educational videos through its Interactive Patient Care (IPC) platform, offered via tablet or patient room television.
Nucleus' highly specialized animations depict human anatomy, physiology, surgical procedures, and disease progressions. Animations include topics such as Knee Arthroscopy, Type 1 Diabetes, sexually transmitted diseases (including HIV and AIDS), and many more specialty topics. GetWellNetwork will distribute these animations to healthcare providers and their patients through its its cross-continuum engagement platform, which educates and empowers patients across all care settings.
"Leveraging the clinically proficient and engaging library of educational materials that Nucleus offers will allow our clients to prescribe personalized content to patients, in turn resulting in greater outcomes and an unparalleled patient experience," said Carrie Ivers, Chief Strategy Officer of GetWellNetwork.
Educating patients through the use of interactive video content has proven to be an effective educational tool in all care settings. In a recent study, 78 participants received either online videos or written education materials on the description and detection of melanoma. The online video group demonstrated significantly increased knowledge compared to those in the written education group.
"We are very excited about this new partnership," said Ron Collins, CEO and co-founder of Nucleus Medical Media. "GetWellNetwork puts educational information in front of patients every day. Research shows that information presented visually is more likely to be understood and remembered. Our hope is that better educated patients will lead to better doctor-patient communication and reduced readmissions."
GetWellNetwork plans to begin distributing Nucleus animation videos in July 2017.
About GetWellNetwork
GetWellNetwork, Inc.® powers patient experience. Our solution, The Patient's Platform, helps leading health care systems create connections with patients in any setting, deliver insights to clinicians in real time, and transform care through an evidence-based model for patient engagement. Our open technology integrates with electronic health record and IT applications to extend the value of existing investments and expand the possibilities of care. With more than 50 million patient interactions per year, we drive performance improvement, positive outcomes and patient loyalty. Learn more at http://www.getwellnetwork.com.
About Nucleus Medical Media
Founded in 1997, Nucleus Medical Media, Inc. is an award-winning creator and licensor of medical illustrations, medical animations, and interactive multimedia for the publishing, legal, healthcare, entertainment, pharmaceutical, medical device, and academic markets. Additional information about the company can be found at http://www.nucleushealth.com.
Media contacts:
Ron Collins
Nucleus Medical Media, Inc.
rcollins(at)nucleusinc.com
770.805.0460
Marcia Rhodes
Amendola Communications for GetWellNetwork
mrhodes(at)acmarketingpr.com / 602.793.1561