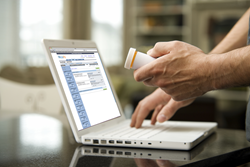 "With additional improvements and enhanced features coming in the release of MirixaPro 6.0 this Fall, Mirixa is committed to maintaining its position as the MTM platform that pharmacists prefer."
RESTON, Va (PRWEB) June 22, 2017
Since its inception in 2006, Mirixa has continued to update and improve MirixaPro, the industry's leading MTM platform. The latest enhancements, released in the first half of 2017, include significant improvements to usability and workflow efficiency while enriching clinical quality documentation.
Workflow efficiency enhancements for Pharmacies include:

Advanced User View - Mirixa understands the resource and time constraints at pharmacy and strives to improve workflow efficiency while always maintaining excellent clinical quality. To accomplish these objectives, MirixaPro platform users now have the option to activate an Advanced User View which can significantly accelerate common case management activities.
○ Case List – With the Advanced User View, users can perform and document patient outreach activities much more quickly and efficiently.
○ Clinical Documentation Smart Search – The introduction of intuitive type assist functionality to MirixaPro offers advanced users rapid access to applicable content. Similar to common web search engine functionality, this "Smart Search" feature speeds the inclusion of common information, allowing pharmacists to author quality patient and physician content faster and with more consistency.
Case List Navigation Enhancements – Improved filtering options and summary indicators help the user find and act on opportunities faster, more easily, and with greater confidence.
Updated, Streamlined Email Notifications – Periodic case notification email messages have been redesigned to quickly provide clear and actionable information. This allows pharmacy staff to better prioritize and plan patient outreach activities.
Additional MirixaPro enhancements designed to promote high quality service delivery and documentation are:

Expanded Clinical Communication Content – Clinical "Quick-Pick" content has been expanded and improved to support appropriate and specific communications to both patients and prescribers.
High Risk Medication Identification and Messaging – Updates to Mirixa's HRM logic align medication targeting with recently updated PQA list based on American Geriatrics Society (AGS) guidance and provide precise and actionable clinical counseling messages.
As the leading medication therapy management platform, MirixaPro has been the gold standard for conducting MTM services for more than a decade. And, according to Frank Harvey, CEO of Mirixa Corporation, "With additional improvements and enhanced features coming in the release of MirixaPro 6.0 this Fall, Mirixa is committed to maintaining its position as the MTM platform that pharmacists prefer."
About Mirixa Corporation
Mirixa Corporation is a leading healthcare technology and services company. We identify and connect patients with trusted pharmacists and other healthcare providers for individualized medication counseling. Our innovative technology and services improve patients' health and reduce costs. For more information, visit http://www.Mirixa.com.